SAN FRANCISCO (CNNMoney.com) -- Consumers will finally get the chance to own an iPhone, a mobile phone that plays iTunes and surfs the Web, electronics maker Apple said Tuesday. The device will retail for between $499 and $599.
Company chairman Steve Jobs, speaking at the company's annual Macworld expo, called the iPhone, which will be available in June, a "revolutionary mobile phone" that will feature an iPod, phone and what he called an "Internet communicator." (Video: See Jobs make the announcement.)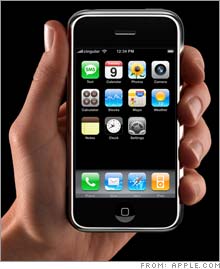 Jobs also disclosed that Apple's (up $7.10 to $92.57, Charts) iTunes will sell Paramount films, and that the long-awaited AppleTV device to view downloaded videos will be available beginning in February.
The phone is rectangular, and the entire front surface is a touch screen. All of its functions are activated by touch, but when you bring your iPhone to your face, a proximity sensor will turn off the touchscreen so you don't accidentally face dial.
The phone, which runs the Mac OS X, will be able to download and play both music and movies. It will come in two models -- a $499 version with 4 gigabytes of memory and a $599 one with 8 gigabytes.
"This is a day I've been looking forward to for two-and-a-half years," Jobs told the crowd at San Francisco's Moscone Center.
Jobs was particularly enthusiastic about the iPhone's Web-browsing capabilities.
"It's bad out there today," says Jobs of mobile Web browsers. "It's a real revolution to bring real Web browsing to a phone."
As an example, Jobs called up The New York Times' Web site. The full page displayed, rather than the kind of special, oddly formatted, version that most smartphones show.
He then called up Google Maps to find a nearby Starbucks (Charts). He actually prank called it and ordered "4,000 lattes to go."
Despite all these bells and whistles, Jobs said the "killer app is making calls." The iPhone will operate on the GSM protocol, but won't have third-generation broadband initially. Jobs said that 3G capability is coming. It will also sync with the Mac's Address Book application.
Cingular, a unit of AT&T (up $0.13 to $33.94, Charts), will be Apple's sole U.S. partner. It's an exclusive multiyear agreement, which means no other carrier will be able to sell the iPhone through 2009.
In a move that could hurt BlackBerry maker Research in Motion (down $11.16 to $131.00, Charts), Apple will offer free push e-mail from Yahoo (down $0.34 to $27.58, Charts) on the phone device. RIM currently charges for its e-mail service.
Google (Charts) CEO Eric Schmidt, Yahoo co-founder Jerry Yang and Cingular Wireless CEO Stan Sigman each appeared with Jobs at some point during the keynote.
While onstage, Jobs played a voicemail on the phone from former Vice President Al Gore, a member of the company's board, congratulating the Apple chairman on the new device. It was Gore who led the special committee which recently exonerated Jobs of wrongdoing in the company's options backdating controversy.
On Tuesday Jobs also unveiled the product formerly known as iTV, which will now be called Apple TV. This device has a wireless connection that will let up to five computers stream or download video content to a television. It can connect to a large-screen high definition television, and with 40 gigabytes of memory can store 50 hours of movies and television shows.
Apple TV will ship next month, and will sell for $299. Jobs said the company is accepting orders.
Jobs announced that there have been 2 billion iTunes sold for iPods. He said it took 3 years to sell the first billion and ten months to sell the second billion. He added that 1.3 million movies have been sold for video iPods.
There was some question as to whether Apple would be able to use the iPhone name for the device. But Cisco Systems (down $0.16 to $28.47, Charts), which owns the rights to the iPhone name, said Tuesday it expects to reach agreement with Apple later Tuesday on using the name for its device.
"Given Apple's numerous requests for permission to use Cisco's iPhone trademark over the past several years and our extensive discussions with them recently, it is our belief that with their announcement today Apple intends to agree to the final documents and public statement that were distributed to them last night and addressed a few remaining items," Cisco said in a statement obtained by CNN. "We expect to receive a signed agreement today."
The company also disclosed that it is changing its name to Apple Inc. from Apple Computer Inc. to reflect the changing nature of the company's product list.
Apple shares surged nearly $7, or more than 8 percent, to $92.44 on the announcement.
CNN's Katy Byron contributed to this report.
________________________________________
Suit charges Apple with new options woes