NEW YORK (CNNMoney.com) -- The House of Representatives passed the Fair Minimum Wage Act of 2007 by a wide margin on Wednesday afternoon.
The bill raises the minimum wage from $5.15 per hour to $7.25 per hour in three increments over two years and two months.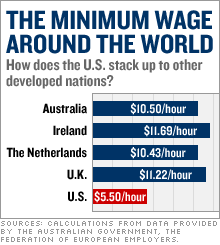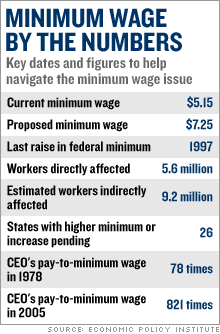 The act, introduced by Congressman George Miller (D.-Calif.), passed by a vote of 315 to 116 after a day of spirited debate. The last time the minimum wage was raised was 1997.
Miller, on the House floor, called it a historic vote that had waited 10 years. He said it was simply "an up-or-down vote saying whether the poorest people working in the country deserve a raise."
A vote in the Senate, where the Democratic majority holds a much slimmer 51 to 49 advantage, is not expected until after a vote on the lobbying reform bill, which is expected at the end of next week, according to a spokesman for Senate Majority Leader Harry Reid (D-Nev.).
President Bush has signaled his willingness to sign a minimum-wage increase if the Democrat-controlled congress offers tax and regulatory concessions to small businesses.
In a sign of the bill's wide popularity in the House, 82 Republicans joined 233 Democrats to vote for it, while 116 Republicans voted against. Additionally, four members of Congress recorded no votes.
But many Republicans, in the minority for the first time since 1994, spoke out against government "interference" in the labor market.
Howard McKeon (R-Calif.), in an effort to thwart the legislation, proposed an alternative minimum-wage hike that would have created a small business health care plan. The motion was defeated on a voice vote.
A minimum-wage increase is part of the House Democrats' promise to push through six pieces of legislation within the first 100 hours in power.
House Majority Leader Steny Hoyer (D-Md.), who had garnered support for the issue in June while the Democrats were still the minority party in Congress, said passing a mininum-wage increase now was important to "honor the work of Americans."
Sen. Ted Kennedy, in a press conference before the vote, called the bill a matter of both "family values" and "civil rights," citing the large proportion of black and Hispanic workers the minimum wage affects.
In the Senate on Wednesday, the Finance Committee held a hearing on tax incentives for small business. The tax breaks discussed included a repeal of the estate tax, a repeal of the alternative minimum tax and a measure to make small business expensing levels higher.
"We think it's positive that [the Senate] is discussing these offsets," said Karen Kerrigan of the Small Business and Entrepreneurship Council, a small-business tax advocacy organization. "It's a recognition that a minimum wage increase will impact small firms. That's a good thing," she remarked. "But our preference is that Congress leave the issue alone and let the states deal with it."
Reid has said Democrats would work with Republicans on the matter to seek bipartisan support, although Senate Democrats are still hoping for a "clean" bill with no amendments.
Minimum-wage proponents, such as Jared Bernstein of the labor-backed Economic Policy Institute, who testified to the Senate Finance Committee, said any tax breaks are "unwarranted given the extensive tax cuts to business both small and large over the past decade," as well as the small magnitude of the current minimum-wage proposal.
The minimum-wage hike would directly affect 5.6 million workers currently earning minimum wage, according to the EPI.
The hike could also increase the wages of another 9.2 million who earn just above the minimum, bringing to total affected to about 14.8 million workers.
"Any minimum wage increase will significantly affect the bottom line," Bruce Josten of the U.S. Chamber of Commerce told Reuters.
"This bill completely ignores that fact, and as a result small businesses may be forced to eliminate jobs, reduce hours, and cut employee benefits," Josten said.
Nationally, 28 states already have a higher minimum wage or have passed legislation that will raise it. A number of those states have automatic increases for inflation.
The 22 states that don't already have a higher minimum wage or legislation for one passed are Alabama, Georgia, Idaho, Indiana, Iowa, Kansas, Kentucky, Louisiana, Mississippi, Nebraska, New Hampshire, New Mexico, North Dakota, Oklahoma, South Carolina, South Dakota, Tennessee, Texas, Utah, Virginia, West Virginia, and Wyoming.
The bill would raise the minimum wage in three steps: to $5.85 an hour 60 days after being signed into law by the president, to $6.55 a year later and then to $7.25 the following year.
The cost of minimum wage will impact large retailers like Wal-Mart (up $0.00 to $47.28, Charts), Target (up $0.00 to $58.31, Charts) and Lowe's (up $0.00 to $32.47, Charts) directly or indirectly by creating more competitive rates at the lower end of the wage scale.
--from staff and wire reports.
--------------------------------------------------------------------
Minimum wage hike coming - but maybe with strings
Top-paying companies