NEW YORK (CNNMoney.com) -- If 2006 was the comeback year for private equity, 2007 is setting up to be the year of the big buyout.
A few years ago, a buyout in the $50 billion range would have been unheard of, industry experts said. But now deals in this range - and above - are much more likely to occur, placing even big, public names such as Home Depot (Charts) and Dell (Charts) in the crosshairs of private equity investors.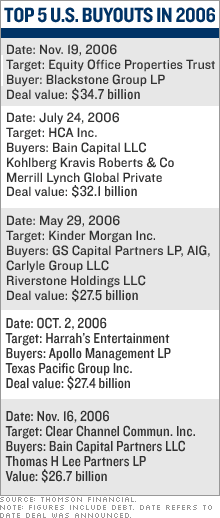 "Deal sizes are getting bigger and bigger," said Greg Peters, credit strategist at Morgan Stanley. "That's a big change for sure. It opens up many more companies as potential targets."
Peters, who regularly draws up lists of potential buyout targets, said he wouldn't be surprised if 2007 was the year the $50 billion level was scaled in the buyout arena.
The trend of mega-sized deals kicked off last summer, with the buyout of hospital chain HCA in a deal valued at about $32 billion, including debt, eclipsing the $31 billion record long held by the takeover of RJR Nabisco by Kohlberg Kravis Roberts in 1989.
Since then, buyout firms have upped the ante, with Blackstone Group offering to buy Equity Office Properties Trust (Charts) last November in a deal valued at a whopping $35 billion, when debt is included. Now that another bidding group has emerged for the office property owner, the buyout firm could even raise that offer.
Fueled by the availability of bank debt and rich with funds - buyout funds raised $200 billion globally last year, according to Private Equity Intelligence - deals have been on a roll.
"The stars are aligned. There isn't only a lot of private equity money, but it's concentrated into much larger funds," said Bob Filek, a partner in the transaction services group at PricewaterhouseCoopers.
And there's a willingness among larger funds to go in together on club transactions, he said, referring to the growing popularity of deals in which investors team up to secure big targets.
Filek expects that trend to keep up and for deal sizes to keep growing this year. That's likely to put more pressure on big, underperforming public companies that catch the eye of private equity investors.
Buyout firms look for companies they believe they can turn around or which they can grow. The goal is to make a profit when they sell the companies or take them public, usually in three to five years.
To take public companies private, buyout firms often load up the firms with debt - which they pay back from the company's cash flow. That's why they hone in on firms with healthy balance sheets that have been duds on Wall Street.
Big bait
It's no wonder then that even public giants - such as Dell, which has struggled with weak results and faces investigations into its accounting practices - are being thrust into the takeover spotlight. The PC-maker's stock, with a market capitalization of $57 billion, has skidded 16 percent in the last year.
"Dell does have the financial characteristics that private equity investors look for - cash on the balance sheet, strong free cash flow. It's definitely a company that could support a lot of debt," said Toan Tran, equity strategist at Morningstar.
But founder Michael Dell owns a significant amount of shares, and any deal would have to have his blessing, Tran added.
Dell said it does not comment on rumors or speculation.
Retail behemoth Home Depot's lackluster stock also has sparked chatter that private equity firms are circling. A buyout of Home Depot, which has a market capitalization of about $83 billion, would be the biggest deal ever.
But Home Depot has denied that it's in talks with private equity investors. In a filing it made last month with the Securities and Exchange Commission, the company said it had not held discussions about a potential leveraged buyout or recapitalization.
Several retail names, including Toys "R" Us and Neiman Marcus, have gone private in the last few years, and while there haven't been many mega-sized transactions in the sector, Bill Wetreich, managing director at Standard & Poor's, isn't dismissing the possibility of a blockbuster deal.
"In this environment, I don't want to rule anything out. But it would definitely exceed anything done to date," he said, referring to the possible buyout of a company the size of Home Depot.
Private equity firms have laid down the gauntlet. Companies - whether big or small - that don't want buyout firms sniffing around will have to clean up their acts. Now it's time for public companies to sit up and take notice.
"Public companies that are unable to develop an effective strategy or implement one in a way to increase shareholder value are going to be subject to takeover from competitors or private equity," Filek from PricewaterhouseCoopers said.
---
What's next for private equity?