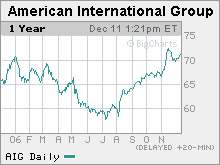 Hear the letters A-I-G, and chances are you think of the company's cantankerous former chairman and CEO, Maurice "Hank" Greenberg. During his four-decade reign the hard-charging Greenberg built AIG into the world's largest insurer, with operations in more than 100 countries. Investors loved him for his ability to somehow magically deliver 15 percent earnings growth quarter after quarter, and they awarded AIG shares a premium price/earnings multiple in the stock market.
The praise was overdone, of course, as the company got swept up in a series of highly publicized accounting scandals and government investigations that eventually cost Greenberg his job. In March 2005, Greenberg and several top executives resigned, leaving others to mop up the mess.
Nearly two years later, however, it's clear that AIG was no Enron. Under CEO Martin Sullivan, a 30-year company veteran, AIG has survived restating five years' worth of earnings, has paid billions to settle fraud charges with government authorities, and is reporting impressive profit growth once again. Led by a strong showing in its property and casualty business, the company registered a 38 percent jump in net income in the first three quarters of 2006 before investment gains or losses, to $11.6 billion. As Don Yacktman, who recently purchased more than 100,000 shares for his Yacktman Funds, puts it, "A little bit of plastic surgery and - voilà! - the ugly duckling becomes a swan."
Expect more strong results in 2007. Hurricane Katrina, which damaged billions of dollars' worth of homes, commercial structures and energy facilities, should help AIG's P&C business, which accounts for 33 percent of profits, because it allowed the company to boost premiums and impose more stringent terms and conditions on commercial policies. Meanwhile, AIG's foreign life-insurance unit, which accounts for 28 percent of earnings, should continue its rapid expansion, particularly in the immense Asian market.
Wall Street analysts have constructed fancy models to try to figure out how much of a premium AIG shares should fetch in the post-Greenberg era, if any. But their numbers are at best educated guesses. What's clear is that the stock is cheap, trading for 12 times estimated 2007 earnings, close to its historical low. And growth prospects are attractive, with profits projected to increase 13 percent annually for the next few years.