NEW YORK (CNNMoney.com) -- In the first 100 hours of the 110th Congress, the House passed a minimum wage bill that raises the federal minimum from $5.15 to $7.25 an hour and the Senate may follow suit this week, to the dismay of some small business owners.
As a result of the new law, experts say that many small firms could be forced to raise prices, cut jobs or slash the hours of the low-wage workers.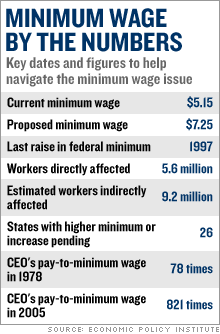 However, the impact of increased payroll costs will be somewhat limited since 23 states have already enacted statutes boosting their minimum-wage rates above the current federal rate. Eight states even have minimum-wage rates at or above the proposed rate of $7.25.
And in some states, where the job market in the area is already constricted, small businesses are already paying employees far more than the Federal minimum, even as much as $10 an hour.
"Most of the time we pay at least a dollar more (than the minimum)," said Juanita Lovezzola, owner of Lovezzola's Pizza Family Restaurant in Pooler, Georgia, where the state's minimum-wage rate is still $5.15 an hour.
Lovezzola said that she's not really worried about the new legislation. "It's hard to get help in this area," Lovezzola explained, and "if you pay a person good, they are going to stay."
In fact, a whopping 91 percent of small business owners said they are not affected by minimum wage laws because they pay all of their employees more than the minimum wage, according to a survey by SurePayroll, an online payroll service provider for small businesses.
"Most small businesses are paying more than the national minimum-wage, so an increase in the minimum wage has little to no effect on those small businesses," SurePayroll President Michael Alter said in a statement.
Even still, research by Liana Fox at the Economic Policy Institute, found that the minimum wage bill would directly affect 5 percent of the workforce, or about 6.6 million workers, and would also disproportionately impact smaller firms.
The hike may also increase the wages of 8.3 million employees who earn just above the minimum.
The International Franchise Association has expressed strong opposition to legislation that would increase the minimum wage.
"Many small businesses operate on thin profit margins," IFA President Matthew Shay said in a statement. "A 41 percent increase in the starting wage will force difficult staffing and pricing decisions for franchised businesses which may ultimately force them to close their doors permanently."
"With the 10 percent increase in energy prices this year and annual double-digit increases in health care premiums, these sharp hikes in labor costs will be a detriment to small business," he added.
Last week, the Senate Finance Committee approved an $8 billion tax-incentive package for small businesses, which means that the Senate may pass a minimum wage bill coupled with tax and regulatory relief for small businesses to ease the impact of increased payroll costs.
The tax breaks included an extension of the expensing limit, a deduction for leasehold improvements and a measure to make small business accounting easier.
"To call a minimum wage increase 'overdue' is the understatement of the year," Committee Chairman Max Baucus said in a statement. "It's high time our workers get a raise. At the same time we are going to give a boost to small businesses."
House Education and Labor Chairman George Miller, who authored H.R. 2, the Fair Minimum Wage Act of 2007, insisted that nearly 15 million workers would get a raise under the legislation. Meanwhile, Rep. Pete Sessions, said the minimum wage hike could cost 1.6 million jobs.
Entrepreneurs hope for help from new Congress
Glimmers of hope for entrepreneurs in 2007