NEW YORK (CNNMoney.com) -- In his work as a personal financial adviser, Brian Jones' philosophy can be summed up in a few words: Don't be like Mike.
Former heavyweight champ Mike Tyson could be the poster child for people who improbably squander huge sums of money. The slugger who was the youngest man ever to win the heavyweight crown had a fortune estimated at $300 million, yet today he is virtually penniless and trying to find ways to pay off a list of creditors that includes the Internal Revenue Service.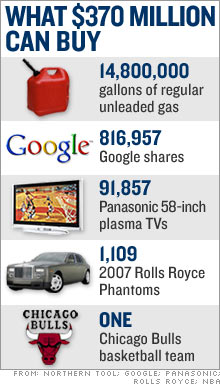 To Jones, Tyson's story serves as a cautionary tale for the winner of Tuesday's Mega Millions lottery drawing, which plays in California and 11 other states. The jackpot: A cool $370 million.
"You have to work hard to spend that kind of money," said Jones, vice president of Cooper, Jones and McLeland in Fairfax, Va., and author of Getting Started: The Financial Guide for a Younger Generation (Larstan Publishing, 2006). "Mike Tyson managed to, but you have to work really hard."
For Tyson, the source of his financial woes was multi-pronged. From the exotic tigers he kept on his property to stretch limos that carried him through life's ultra-fast lane, Tyson managed to find innovative ways to blow a bundle the dimensions of which few people can even conceive of having.
Lottery winners, like successful game-show contestants, heirs to large estates and others who come into huge sums of money in a short period of time, also often find creative ways to fritter away their fortunes.
But it doesn't have to be that way. Sound financial planning, including hiring an experienced tax accountant and financial planner, can guide even novices through the prickly minefield of megabucks.
Jones and other financial advisers recommend solid investments - bonds, money market and other sources that involve little risk.
"The first thing for a winner to do is sit back, take a deep breath and realize what they need to do with that kind of money," said Richard Schneider, a venture capitalist with Easton Advisors in New York City. "Most of us would benefit with professional advice, which doesn't mean someone who calls up and claims to be a financial adviser.
"One should ask around and make sure they're putting themselves in the hands of someone who's competent and trustworthy."
Numbers to boggle the mind
Finding someone used to dealing in these kinds of numbers isn't a small feat.
As of last Friday, when the prize was still at $275 million, a winning Mega Millions ticket would be worth $142 million after taxes for non-New York City residents and $137 million for those in the city, according to New York Lottery spokeswoman Susan Miller. Those choosing the annuity option would have seen 26 annual payments of about $13.5 million apiece, according to last week's figures, which would be higher today.
While lottery officials can't give specific financial advice to winners, they do offer a general caution. "We recommend that they get a tax adviser and a financial adviser and that they sort of take a deep breath and reflect on what they really want do to," Miller said.
Jones also offers a stern word of advice: "Don't quit your day job."
He said one of the most common mistakes people who come into large amounts of money make is leaving their comfort zone - quitting their job, selling their homes and abandoning old friends who formed a support system.
"It's very important to have grounding influences when something like that happens," he said. "Keeping your day job for some people is an important safety net."
Two pieces of advice that are universal for someone quickly coming into a large fortune: Don't forget the tax man and be careful about risky ventures.
"Conservatively invest the money so you don't end up as one of the statistics," advised Mike Weiss, founder and CEO of Frontier Financial in New York, a financial consulting firm.
"The most common mistake I think is probably listening to friends and family," Weiss said. Those are the people you're normally accustomed to listening to, but none of those people are experts at handling large sums of money either."
----
Illinois Lottery reported up for sale