NEW YORK (CNNMoney.com) -- There's nothing unusual about a Big Pharma company with outgoing blockbusters and a weak pipeline. Virtually every major drugmaker in America is struggling with this issue.
Merck (Charts), Bristol-Myers Squibb (Charts), Wyeth (Charts), Schering-Plough (Charts), Eli Lilly & Co. (Charts) and other drugmakers have all faced this problem. But Pfizer is the biggest of the lot and has to deal with the impending loss of the biggest drug: Lipitor.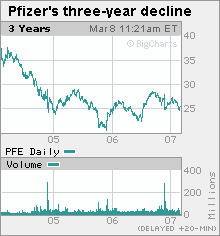 The big question is what happens to Pfizer (Charts) after 2011, when Lipitor's main patent expires. By then the nation's biggest drugmaker could regain its status as a fast-growing powerhouse, some industry analysts say. But that's far from certain since Pfizer's early stage pipeline is plentiful but unproven, and 2011 is a long way from 2007.
In the meantime, the lack of obvious replacements for Lipitor has been pushing down Pfizer's stock, which has tumbled 27 percent since the start of 2004 despite its recent rebound. In the meantime, Pfizer's been aggressively cutting costs by eliminating thousands of jobs and closing plants.
"Any big company gets to a point where they have trouble growing," said Jon LeCroy, analyst for Natexis Bleichroeder. "Pfizer is in a similar state, where an additional product doesn't seem to matter."
But additional products are just what Pfizer needs to make up for the loss of Lipitor and other big-selling drugs. One big blow: Pfizer pulled its experimental drug torcetrapib in December after it was linked to deaths in clinical trials. The drug was supposed to extend the sales life of Lipitor, the cholesterol-lowering statin that is the best-selling drug in history.
Last year Lipitor sales just fell short of chief Pfizer CEO Jeffrey Kindler's $13 billion goal but still set another record for annual drug sales.
But after the drug's patent expires in 2011, generic drugmakers will be allowed to make low-cost versions, and when a brand-name drug loses patent protection, revenues typically plunge 80 percent or so within a year.
On Wednesday, the FDA approved five Lipitor indications for heart disease, which Pfizer could patent to help protect some of the sales. Even with the new uses, billions in sales probably will be lost when Lipitor goes off patent.
Torcetrapib was supposed to be combined with Lipitor and was expected to add billions in annual sales. Without torcetrapib, Pfizer has to find other ways to fill make up the lost sales or learn to live with it.
"That one drug was supposed to save Lipitor, and Lipitor is a $13 billion product," said LeCroy of Natexis Bleichroeder.
The loss of torcetrapib "left very little in the near-term for late blockbuster products," added analyst Joe Tooley at A.G. Edwards.
The losses of Lipitor and torcetrapib are not the only issues facing Pfizer. The New York-based drugmaker has lost protection on other blockbusters like Zoloft, the antidepressant that had $3.3 billion in annual sales, and its patent on the $4.7 billion blood pressure drug Norvasc is set to expire this year.
The company has launched some promising new drugs - including the cancer drug Sutent, the antismoking drug Chantix and Lyric, a treatment for nerve pain.
Pfizer is awaiting FDA decisions on drugs for HIV, overactive bladders and a new antibiotic. But these aren't likely to replace sales lost from Zoloft, Norvasc or, for that matter, torcetrapib.
In addition, Pfizer has dozens of other compounds in the early stages of research: 49 in the earliest phase 1, and 32 compounds in phase 2 - many of which might be headed to market around the time Lipitor sales deflate.
"There are quite a lot of interesting compounds in development that have the potential to be blockbusters," said Robert Toomey, analyst for E.K. Riley Advisors. Pfizer needs a few of those to see a "meaningful improvement" in sales and earnings in coming years, he said.
"Their pipeline appears to be fairly full in the early stages," said Tooley at A.G. Edwards. After 2011 "they should have a very compelling growth profile ... when they have Lipitor behind it."
But there's a problem handicapping future growth based on early-stage pipelines, according to Tooley. That's because trying to gauge the success of a company's early-phase drugs is largely a guessing game since clinical trials reveal little solid information.
"We have a hard time building in revenues when we don't have any data," said Tooley.
At the same time many of Pfizer's early-stage compounds are focused on the most lucrative areas in health care: obesity, rheumatoid arthritis, heart disease and various types of cancer. Pfizer estimates that heart disease is the No. 1 market in health care, at $85 billion, with $35 billion for obesity and $30 billion for cancer.
Ake Elhammer and Jerry Slightom, former researchers for Pharmacia, which Pfizer bought a few years ago, said that early-stage cancer compounds generally have a good success rate, especially if they make it to phase 2.
As of Dec. 20, Pfizer had six cancer compounds that had made it to phase 2, the stage where drugs are tested for effectiveness. In the earlier phase 1, tests focus on safety. "If you're in phase 2 and you have good data, that's a good indicator that it's going to work out," said Elhammer, CEO of AureoGen BioSciences, a closely held biotech the two men co-founded.
Elhammer and Slightom said Big Pharma is backing away from high-risk early-stage research, leaving that to smaller biotechs that sometimes are then acquired by giants like Pfizer looking to beef up their pipelines.
This suggests that future buyouts by Pfizer will look more like its 2005 acquisitions of Vicuron ($1.9 billion) and Angiosyn ($500 million) than its $60 billion purchase of Pharmacia in 2003.
"The general trend has been for Big Pharma to avoid the early stages of discovery," said Slightom. "That's been turned over to companies like us."
"Certainly that's what we're banking on," added Elhammer.
As for Pfizer's near-term outlook, analysts expect earnings growth of about 7 percent this year and 6 percent next, according to First Call, while sales are seen flat in 2007 and off 2 percent in 2008, even with Lipitor.
At the same time, Pfizer is trying to hold onto investors by offering a rich dividend. The stock is yielding 4.5 percent at current prices, as Pfizer cuts $5 billion in costs, including 10,000 job cuts and plant closings.
"The management right now seems to be focused on getting back to pre-Pharmacia size," said Tooley, referring to Pfizer's 2003 acquisition.
"They're maintaining growth only through cost-cutting," said LeCroy at Natexis Bleichroeder. "They have a giant dividend. That's the reason to own it."
Robert Toomey owns shares of Pfizer stock, though E.K. Riley Advisors does not conduct business with the company. A.G. Edwards owns a long position in Pfizer stock and has conducted noninvestment banking securities-related services for the company in the past 12 months.
What's new in the market to fix your hip
Kleiner Perkins' risky bet on bird flu
Check pharmaceutical stocks