NEW YORK (Money Magazine) -- If early retirement is your goal, think seriously about how you'll spend your time. All play and no work can get boring fast.
Just ask Otis Braswell, 50, of Clayton, N.C., who retired five years ago as a store manager at Lowe's, where he'd worked for 28 years. The long workweeks took their toll: When his daughter Venita, now 21, was young, he would often leave home before she awoke and not get back until after she was asleep.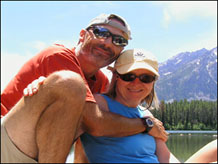 Have you always dreamed of retiring before your 60th birthday? You may be closer to that goal than you think. Money Magazine shows you how to 'Retire Early.'
Play video

"One day I looked around, and she was an adult," he says.
When Braswell realized that he could live comfortably off the $2 million he had accumulated in Lowe's profit-sharing, employee stock-ownership and retirement plans, he decided to call it quits. But as much as he enjoys taking his younger daughter, Kimberly, 14, to school and heading out to the golf course, he has found it less satisfying than expected.
"Most of my friends were still working," he says. "Golf isn't much fun by yourself." So Braswell decided to use his free time to work toward the college degree he never got when he was younger. He just earned his bachelor's in business and will start on his master's this summer.
After that? Perhaps a new career. The right job can certainly make early retirement more affordable. The best way to find one is to start looking well in advance of your exit date.
Start with your current company. After all, your boss already knows how valuable you are and may be happy to take you on in a scaled-back capacity. It's different, of course, if your early-retirement dream is all about getting a fresh start or fulfilling a lifelong passion. In that case, you need to hit the pavement, although you may want to update your tech skills or gussy up your wardrobe first.
And if your interviewing technique is rusty, Arthur Koff, founder of RetiredBrains.com, suggests you first apply for a job you're not interested in. "You don't want to be stumbling around for answers when you're interviewing for the job you really want," he says.
Be prepared: Not every employer is eager to hire fiftysomethings. But there are plenty of fast-growing careers that are wide open to second-timers. Plus, you can visit sites that cater to older job seekers, such as RetiredBrains.com and RetirementJobs.com.
_____________________________
401(k)s and IRAs: Grow your money, shrink your taxes
Calculator: Are you on track to retire early?