NEW YORK (CNNMoney.com) -- The boss battle at Take-Two Interactive Software is over - with the leaders brutally squashed, then discarded. It sounds like a storyline straight out of "Grand Theft Auto," but in this case, it was corporate Darwinism at work.
Thursday's coup at the video game shareholder's meeting marks the start of a new era at Take-Two (Charts), one that many observers felt was long overdue. The bigger question is: Will this new era be noticeably different from the previous one?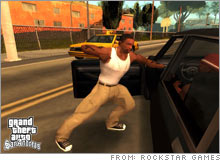 In some ways, it surely will be. The accounting and ethical quagmires that have bogged down the company for the past few years are likely to disappear. And Take-Two will almost certainly become a leaner company, shedding divisions and canceling games. (While no job cuts are in the immediate future, it's a virtual certainty that the Global Star Software, Jack of All Games and Joytech divisions will be sold off or shuttered.)
The arrival of a new board may also ratchet down the public scrutiny of the company a few notches - but that respite from the spotlight's glare might not last as long as they would like.
You see, the thing that makes this game maker different from the rest of the industry is its rebellious streak. It's something that drives opponents insane and causes mass migraines in the boardroom, but without it, Take-Two wouldn't be the force it is today.
On Oct. 16, the next installment of "Grand Theft Auto" will hit the streets. The trailer, which not-so-coincidentally was released to the Web Thursday afternoon, shows a realistic looking New York City clone with a character voiceover saying "Life is complicated. I killed people, smuggled people, sold people. Perhaps here, things will be different."
If you're expecting a kinder, gentler Take-Two, think again.
Also in the pipeline is a sequel to "Manhunt," an extraordinarily controversial 2003 game that explored new levels of video game violence, with vivid, cinematic execution sequences. The sequel alone would be enough to thrust Take-Two into the spotlight - but the fact that a version is being built for Nintendo's (Charts) family-friendly Wii will garner even more attention.
Of course, the board might choose to cancel production of "Manhunt 2". After all, the original, while it met sales goals, wasn't exactly a blockbuster. But canceling the game could set the stage for a showdown between the new bosses and Rockstar Games - the cash cow of Take-Two.
And if the new board wants to revive Take-Two, it's going to need Rockstar to do it. The 2K Games division has some hitmakers in it - particularly industry legend Sid Meier (maker of the "Civilization" series) - but it hasn't yet proven itself able to carry the company on its shoulders.
That's what makes the stock surge of Take-Two in recent weeks so curious. Since the dissident investor group, which included Oppenheimer Funds and DE Shaw Valence Portfolios LLC, announced its plans to oust the existing board, share prices have spiked - jumping 25 percent in the last three weeks. Investors, though, seem to be reacting without thinking things through.
First off, the company needs to find a leader. Acting CEO Ben Feder, formerly a senior executive at News Corp (Charts)., isn't likely to keep the job that was taken away from Paul Eibeler. And finding someone who can keep both the board and developers happy isn't going to be easy.
"I think the odds of finding the right person who can manage and keep everyone happy and cut all the waste and bad games is 20 percent," Wedbush Morgan analyst Michael Pachter told Reuters. "Whoever that person is, they're making a lot of money doing something else."
Meanwhile, Thursday's action plunged Take-Two into a deeper level of chaos. Developers aren't sure if they'll have jobs in the coming weeks. Questions about creative freedoms are circling. And many are concerned they will see substantial changes made to the work environment.
(Don't underestimate this: Before the boardroom drama started, I never met a Take-Two employee who didn't love working there - despite insane hours and tremendous pressure. These days, there are a lot of resumes being polished at the company.)
The telling quote amid the coup for me came from new chairman Strauss Zelnick, a former chief executive BMG Entertainment.
"We need to create more hits," he said at a press conference.
It's a pretty obvious statement. Even people who don't know the industry well know that Take-Two needs to find some pillars other than "GTA."
But 'hits' is a nebulous term, especially in the video game industry. Does it point to an era of innovation and new game styles at the company? Will Take-Two trade in some of its street cred with the hardcore gaming crowd in an effort to woo the new school of gamers being lured in by Nintendo? Will it follow the lead set by Electronic Arts (Charts) and pump out annual versions of its biggest franchises? Or will it take a cue from Activision (Charts) and lean more towards licensing content tied to Hollywood blockbusters?
We won't begin to know the answer for a while now - but it's pretty apparent that wrestling control of the boardroom was just the first step in a long journey for the company's new leaders.
---
Morris is Director of Content Development for CNNMoney.com. Send him an email at chris.morris@turner.com