NEW YORK (Fortune) -- In every big corporate scandal, a company must make a decision about where to draw the line: Who to throw under the bus, and who to place in the driver's seat. So it was in the options-backdating mess at UnitedHealth Group, where superstar CEO Bill McGuire was, by far, the most prominent casualty (see "UnitedHealth and the Ghost of Dr. McGuire").
But the corporate blame game is almost never a black-and-white matter. Deciding who stays and who goes requires a tricky combination of weighing: 1) the facts; 2) the likely impact of firings on the company's operations and on Wall Street; and 3) the reaction of the feds, who may treat the company with greater or lesser kindness in their own investigations, based on their assessment of how fully the company has cleaned house.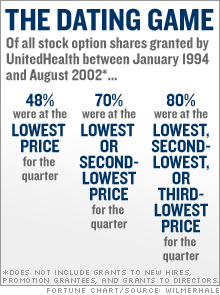 Here's a closer look at how UnitedHealth (Charts, Fortune 500) weighed in on these tricky issues - and why.
The new boss
Within UnitedHealth's executive ranks, McGuire, as well as the company's general counsel, CFO and HR chief have all been replaced. Yet McGuire's right-hand man - Chief Operating Officer and President Stephen Hemsley - not only survived, but emerged with McGuire's job.
Why? Like McGuire, Hemsley received millions of backdated stock options - in fact, he got one 1997 grant dated before he even started work at the company. And like McGuire, he received a huge windfall with the dubious 1999 decision to "suspend" two million executive options, replace them at a lower (and apparently backdated) price, then "reactivate" them 10 months later.
Hemsley also faced a similar conflict of interest as McGuire, in retaining UnitedHealth director William Spears, chairman of the board's compensation committee, to manage a chunk of his personal fortune. (Spears, who had his own New York wealth-management firm, ran $11.7 million for Hemsley starting in late 2001; the figure rose to more than $52 million by 2006.)
UnitedHealth's outside investigator, former SEC enforcement chief William McLucas, notes in his report that internal controls involving broad options grants to thousands of employees were "inadequate" and "senior management failed to ensure that the options granting practices were appropriate."
UnitedHealth's HR department, as a matter of policy, for years awarded grants to new and promoted employees that were backdated to the lowest stock price of the quarter. McLucas found that "these practices were followed openly in the company, at least within the HR organization."
What's more, Hemsley was a former CFO of Arthur Andersen, trained as a CPA. As the hierarchy's detail man, with responsibility for HR, legal and other administrative realms at UnitedHealth, shouldn't he have known that the options-granting process at the company was rife with problems - and been attuned to the issues involving executive grants?
Not necessarily, according to the company. McLucas concluded that Hemsley deferred almost entirely to McGuire on the critical matter of dating stock grants - that McGuire, as one person involved in the mess put it, "owned" the process. Hemsley also has said that he was oblivious to the date of his backdated 1997 options because he was so preoccupied with beginning work at UnitedHealth and moving his family from Chicago to Minnesota. UnitedHealth director Douglas Leatherdale even told Fortune that Hemsley - whose exercisable options are now worth about $371 million - "didn't really pay much attention to how much he was being paid and how many options he got."
As for his conflict with director Spears - which does not appear to have been disclosed to the rest of the board - Hemsley got a pass because it began after the Spears-led special board committee had negotiated the fat new contracts McGuire and Hemsley signed in late 1999. Never mind that Spears, in his comp committee role, helped decide how much bonus Hemsley would get every year - and that having a private financial relationship with a company director was a bad idea in the first place. (Under a new company policy, such arrangements between directors and management are now forbidden.)
For all of these reasons - as well as deep skepticism about McGuire's explanation for how he picked improbably profitable option dates - Hemsley got the benefit of the doubt on matters in dispute, while McGuire did not. On being named CEO, Hemsley also committed quickly to forego any financial gain he'd received as a result of dubious grants, giving up about $190 million, and signed a comparatively meager contract, giving him no options and few perks.