NEW YORK (CNNMoney.com) -- Coca-Cola Inc., looking to offset stagnant cola sales in its key U.S. market by boosting its portfolio of flavored water drinks, may soon announce that it is acquiring vitamin water maker Glaceau, according to an industry report.
Trade publication Beverage Digest, citing unnamed sources, reported Monday that Coca-Cola (Charts, Fortune 500), the world's largest beverage seller, is in serious talks to acquire all of -- or a substantial stake in -- Glaceau.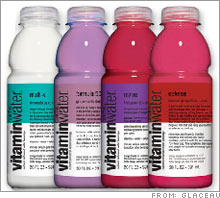 The report said that Coke could make an announcement about the deal when Coke's North American bottlers meet in Atlanta in early May.
Meanwhile, PepsiCo (Charts, Fortune 500), the No. 2 beverage maker after Coke, also had had "meeting" with Glaceau, the report said. Pepsi reported its first quarter results Wednesday. The company is expected to hold a conference call with analysts later in the day could potentially address the Beverage Digest report on Glaceau.
Glaceau is owned by a number of shareholders including CEO Darius Bikoff. India-based Tata owns a 30 percent stake in Glaceau. According to Beverage Digest, it is not clear at this time whether Coke would acquire all of Glaceau or a significant stake.
Some sources told the publication that Bikoff may keep a "retained interest" as is common in many deals. The deal's valuation could be in the range of $3 billion or more, the report said.
Glaceau would make be an attractive addition to Coke's portfolio of drinks, especially in the United States where industry watchers say both Coke and Pepsi are struggling to grow sales and market share for their carbonated soft drinks as more health-conscious consumers migrate to energy drinks and bottled water products.
Earlier this month, Coke told analysts that the company expects more sales weakness for Coke drinks in the U.S. in 2007.
Glaceau has been a phenomenon in recent years. According to Beverage Digest, its line of enhanced, flavored and sweetened waters has been growing rapidly. In 2006, its sales, measured by unit case volume, jumped 103 percent versus 2005.
Most Glaceau volume is now distributed via independent distributors including Cadbury Schweppes Bottling Group, Tucson-based Kalil Bottling, Worcester, Polar Beverages and others.
But the report said that if a Coke deal is done, Glaceau would likely move to the Coke system.