NEW YORK (CNNMoney.com) -- Friday marks not only the biggest day for DreamWorks Animation this year but the biggest in three years.
The company will take in more at the box office with this weekend's release of "Shrek 3" than any weekend since 2004, when "Shrek 2" came out and became a worldwide phenom.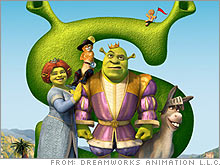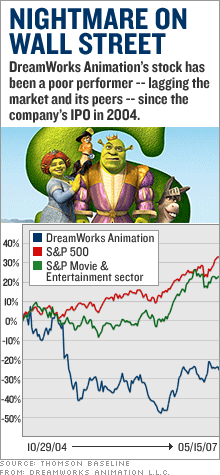 All this revenue is a beautiful thing for DreamWorks (Charts), and the company's stock has climbed 7 percent over the last year in anticipation of big box office and merchandising sales.
The only problem is that the studio has released four films between the two Shrek sequels, and none has matched the success of the grumpy green ogre.
Some of the movies, like "Madagascar," have come close to the coveted $200 million mark at the domestic box office but bombs like "Flushed Away," which took in just $65 million, have dragged on the studio's earnings.
And DreamWorks only releases two movies a year, so it's imperative that they bring in consistent money.
So while analysts expect healthy earnings of $1.84 a share this year, they see a decline to $1.50 a share in fiscal 2008, according to Thomson - not exactly the kind of consistent earnings growth most investors are looking for.
In fact, since DreamWorks Animation went public in November 2004, the stock's had a rocky ride. It popped from the $28 offering price briefly above $40 but has been stuck around $25 to $30 since.
The stock has been punished for several weak movies and a DVD recall when it overestimated demand.
"When we began looking at the stock, it was out of favor, because the company had made several stumbles," said Bill Rice Jr., an analyst with Anchor Capital, a major DreamWorks shareholder. "What drew us to the stock is the strength of the Shrek franchise, and the success of Katzenberg's previous movies like 'Aladdin' and 'Lion King'." Jeff Katzenberg is Dreamworks CEO.
But to really recover lost ground, DreamWorks needs not only a monster hit with "Shrek 3," but a few fairy tale years. So with a movie penned by Jerry Seinfeld and a sequel to "Madagascar" in the wings, is DreamWorks stock a buy?
The friendly green franchise
Shrek isn't just a success story for the Glendale, Calif.-based studio - it's very nearly DreamWorks' only bankable franchise. So the next few weekends will give investors a crucial read on the health of the studio.
"If 'Shrek the Third' doesn't perform up to the level of its predecessors, DreamWorks' 2007 revenue and profits will suffer," Morningstar analyst Larry Witt wrote in a recent note. "The firm remains heavily reliant on its Shrek franchise."
He is skeptical that the movie can perform as well as the first two, because it will be competing with the "Spider-Man 3" and the third "Pirates of the Caribbean" movie, tougher competition than it's seen before. "Spider-Man" launched to record box office numbers in early May; "Pirates" opens next Friday.
The lineup brings to mind the summer of 2004, which was a record season for Hollywood, with "Shrek 2" and "Spider-Man 2" leading the industry to all-time high box office grosses.
DreamWorks' CEO Katzenberg suggested in early May that the release of the other blockbusters could actually contribute to the success of "Shrek the Third."
"We're in sort of uncharted territory here, because when 'Shrek 2' came out, it essentially owned the market for 5 straight weekends," said Miller. "It doesn't have the same luxury this year."
Just what type of revenue do analysts expect this time around?
The original "Shrek" took home $470 million worldwide, and "Shrek 2" nearly doubled that with $886 million, breaking into the Top 10 grossing movies of all time.
The Shrek franchise doesn't stop at the theater either - it's been a major success on home video, selling 90 million units.
"We're projecting $750 million in box office revenue globally," said David Miller, an analyst with asset management company SMH Capital. "We expect a lot more revenue from international theaters because of the increase in the number of screens over the past few years."
DreamWorks would probably be very happy with $750 million but what remains to be seen is how it will build franchises on the same scale as Shrek.
The other characters
DreamWorks has long realized that movies introducing new characters are risky, and so has sought to build strong titles that can have several sequels.
Ultimately, the studio would like to release one original film and one sequel a year, said Morningstar's Witt.
"The one-original, one-sequel idea is good, but it isn't fully developed yet," he said. "In order for it to work, they need three franchises. They only have one for sure, and possibly 'Madagascar.' With a sequel, you have a good chance of strong returns, and the second movie can test the waters."
"Whether they like it or not, Shrek's going to run out of steam. They need to continually be testing new ideas," he added.
"Madagascar," the studio's most popular movie behind the two Shrek releases, is on its way to becoming a viable second franchise for the studio, said Miller at SMH Capital, with a sequel planned for November 2008.
"'Madagascar' made over $500 million worldwide, so it's not like the company is a complete one-trick pony with only the Shrek franchise," he said. "But their track record in original films is mixed, especially relative to Pixar, which has had six original hits in a row."
Disney's (Charts, Fortune 500) Pixar has scored with titles like "Toy Story," "Finding Nemo" and "Cars," but just as importantly hasn't had as many flops as its rival.
But the upcoming lineup looks strong for DreamWorks. It has the Jerry Seinfeld-written "Bee Movie" slated for November, and "Kung Fu Panda" scheduled for next summer.
"Kung Fu Panda" is getting a lot of pre-release buzz, and DreamWorks hopes it will be a summer blockbuster on the scale of "Shrek" when it comes out little over a year from now.
If it gets big returns, the studio will have achieved its goal of three movies which can spawn sequels - and can secure a more reliable revenue stream.
Franchise films lead to lots more sales after the film is no longer on the silver screen - though merchandising and DVD sales - revenue streams that have buoyed DreamWorks through some of its harder times.
But the field is getting a lot more crowded, as traditional studios get into the animation game. News Corp.'s (Charts) Fox scored big recently with "Ice Age 2,"as did Time Warner's (Charts, Fortune 500) Warner Brothers with "Happy Feet." Time Warner is also the parent company of CNNMoney.com.
Buying into the magic
So with the release of one of its biggest films upon us, is DreamWorks stock a buy?
Miller at SMH Capital said investors have long priced "Shrek" into the stock, noting his firm has a "neutral" rating on DreamWorks.
Forecasts of $1.84 a share in profit this year gives the stock a price-to-earnings ratio of 16, but the stock becomes a bit more expensive based on 2008 estimates of $1.50 a share, which put the forward P/E at 19.
While there are few close comparisons to DreamWorks, the much more diversified Disney is trading at a forward P/E of 17, and movie studio Lion's Gate (Charts) is more expensive at 25.
So questions remain for DreamWorks, beyond how it will fare this summer.
"DreamWorks may be getting closer to its desired three-franchise business model, but increased competition will make it very difficult for any franchise to duplicate the success of 'Shrek,'" Morningstar's Witt wrote. "Even if DreamWorks is able to produce great films and fend off the competition, the company might have a difficult time ... if digital piracy can't be contained."
But the studio is undeniably at a turning point, near to establishing its goal of a three-franchise rotation by next summer.
With the release of "Shrek," the company will now have 15 films under its belt, which adds up to a healthy continual stream of DVD sales and licensing for television. And the studio's considering a fourth "Shrek" film for 2010.
But with the success of the third film long anticipated, the studio will have to offer several more positive surprises to make the stock a good buy for investors.
For now, expect a ride as rocky as any Hollywood blockbuster can offer.