NEW YORK (CNNMoney.com) -- Warmer weather combined with early summer discounts helped sales rebound moderately in May after a disastrous April for retailers.
But sales were still mixed overall as the chain stores struggled with tougher comparisons from a year ago and consumers found themselves shelling out a lot more at the gas pump.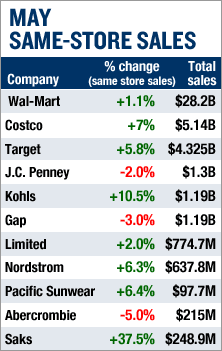 Wal-Mart (Charts, Fortune 500), the world's largest retailer, said sales at its stores open at least a year, a key measure of retail performance known as same-store sales, rose 1.1 percent last month. It had forecast sales to increase between 1 to 2 percent in May while analysts had forecast a 1.4 percent gain, according to Thomson Financial.
Wal-Mart said groceries and plants were among its best-sellers while clothing and home goods didn't fare as well. As higher gas prices pressure its mostly paycheck-to-paycheck shoppers, Wal-Mart said discounts were helping customers "make ends meet."
"We continue to highlight rollbacks and the 'save even more' features throughout the store, as well as in our circular advertising," Eduardo Castro-Wright, CEO for Wal-Mart U.S.A., said in a statement.
Total company sales including new stores grew 7.7 percent to $28.2 billion from $26.2 billion a year earlier. Sales at its Sam's Club division climbed 5.4 percent while sales at its discount stores rose an anemic 0.3 percent.
For June, Wal-Mart expects sales to be flat to up 2 percent.
Wal-Mart's rival Costco (Charts, Fortune 500) fared much better as same-store sales jumped 7 percent, beating analysts' forecasts for a 5.6 percent increase. Also, sales at Target (Charts, Fortune 500) stores open at least a year jumped 5.8 percent in May.
"May was a little bit better than we had expected. Our [sales] index is up 3 percent when we were expecting it to be up 2.5 percent. So we got a decent snapback from April," said Ken Perkins, president of research firm Retail Metrics. Perkins tracks sales results from 51 retailers.
Separately, according to Thomson Financial, which also tracks numbers from 52 store chains, May same-store sales overall rose 2.9 percent, rebounding from a 1.8 percent drop in April and slightly better than its initial forecast for a 2.7 percent gain.
Excluding Wal-Mart, however, same-store sales rose 4.4 percent, also beating the firm's initial forecast for a 3.7 percent increase. In May 2006, same-store sales rose a much stronger 4.5 percent.
45 percent of store chains beat analysts' estimates for May same-store sales, 6 percent met forecasts, while 49 percent missed, according to Thomson Financial.
Among specialty stores, teen clothing chains had a challenging month, with a few exceptions.
Sales at surf-inspired clothing seller Pacific Sunwear (Charts) grew 6.4 percent but Abercrombie & Fitch reported a disappointing 5 percent drop.
In the department store sector, high-end seller Nordstrom (Charts, Fortune 500) enjoyed a 6.3 percent sales increase, trouncing expectations for a 2.6 percent rise.
Women's clothing chain Ann Taylor (Charts) posted a 4.6 percent drop versus a 12 percent jump in sales for the same period a year ago.
With May behind them, retailers need to pull out stellar number in June since the month typically accounts for 40 percent of retailers second-quarter sales, said Perkins.
But it will be an uphill task, he said. "We didn't get much guidance for June from retailers. I think June will probably be OK. The jobs market is holding up. That's continuing to support spending at stores," Perkins said.
Other industry experts, however, were less certain.
"On the economic front, the situation is not supportive to the second half of the year," Richard Hastings, senior retail analyst with Bernard Sands wrote in a note Thursday.
"The 10-year treasury yield is blinking around 5 percent. Using the FDIC data on credit card debt, credit card debt outstanding ended at a lower amount in the first quarter, at $354.2 billion compared to $365 billion in the third quarter of 2004 when the Federal Reserve began its rate hikes," he said.
"All it would take is for the 10-year treasury yield to continue to rise, for the Fed to raise the overnight rate, and debt used to fund personal spending would take a bigger downturn. This would take out another source of liquidity to retail spending [to negatively impact spending and shopping]," he added.