NEW YORK (Money Magazine) -- When John and Mary Owen went house hunting in Santa Ana, Calif. eight years ago, they looked for a home with enough extra space to accommodate at least one of their elderly parents. That choice proved fortuitous.
Shortly after they moved in, Mary's mother, Gerry Cooley, came to live with them for good. In 2000, John's mother, Fern, helped finance a $100,000 renovation to transform half of the Owens' 3,200-square-foot basement into a two-bedroom, two-bath apartment, complete with a kitchen and laundry room.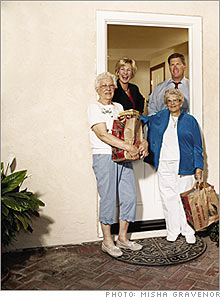 Eighteen months ago it became a permanent home for both Cooley and Fern Owen, now 83 and 92. "It's been an adjustment, " says John, "but now I couldn't imagine living any other way."
Having two mothers under one roof is unusual. But like the Owens, an increasing number of adults - 11 million in all, according to recent estimates - are taking care of an older person in their home. And that number will likely rise sharply over the next few decades as the population ages.
Certainly the emotional and financial advantages of opening your home to a parent can be great. You won't have to stress about whether they are taking proper care of themselves - you'll be able to see for yourself and help as needed. And if your mom or dad becomes frail or chronically ill, neither one of you will have to pay the $30,000 or so a year that the average assisted-living facility costs.
But if you do nothing more to get ready for your parental roomie than put clean sheets on the bed in the guest room, you run the risk of jeopardizing your parents' physical safety - and everyone's sense of privacy. What should you do instead?
The prep steps range from minor remodeling projects (such as installing handrails or brighter lighting) to major renovations (like building a separate apartment), with costs from a few hundred dollars to much more than a hundred thousand.
If done right, these changes can even help, or at least not harm, your home's value. And there's a bonus: You'll end up with a space that not only is comfortable for your mom or dad now but may also make it possible for you to continue living independently in your home as you age.
Figure Out What You Need
Creating a safe place for your parent that also gives both of you some privacy and independence involves the following:
The layout of your home. An unused basement or attic space is the traditional place to add an extra bed and bathroom. But before taking that route, check whether you can expand your square footage with a first-floor addition, for reasons explained below.
Either way, plan for extra storage space, says Dan Bawden, a contractor and estate-planning attorney in Houston. "Older people don't like to leave familiar things behind," he says. "This is often where a lot of tension comes in."
Your parents' health. Right now Mom and Dad may prefer a separate apartment. But in a few years their health could change dramatically, and cooking or climbing stairs might become impossible.
That's why adding a bedroom and bath on the first floor of your home is usually the best way to go for a long-term arrangement, says Vince Butler, a Clifton, Va. contractor who is chairman of the Remodelers Council of the National Association of Home Builders (NAHB).
"Your parent may have to give up a little independence now, but she may be able to stay safely in your home far longer and more comfortably than she would otherwise," he says.
In fact, you may discover that you've overestimated how physically capable your parents are even today. Six weeks after JoAnne Fazio's 86-year-old father moved into a separate apartment above the garage of her home in Solvang, Calif., he fell while getting into bed and broke his hip.
JoAnne and her husband Jim have since hired a home health aide to make sure her father stays safe. "After he fell, it really hit us that we're totally responsible for him," says Fazio.
Your budget. Adding a bed and bath will cost at least $60,000 to $150,000 in most suburban communities. A very basic basement or attic renovation may set you back as little as $50,000, although you'll likely spend six figures on an extensive project like the Owens'. Installing an elevator can cost from $40,000 to $75,000 or more, but you can add solid banisters for a few hundred dollars or a stair lift for a few thousand.
To help decide what works best in your price range, consult a builder or designer who is certified as an aging-in-place expert by the NAHB. (Go to nahb.org/caps to find one in your area).
Decide How You'll Pay for It
If the renovation costs seem shocking, bear in mind that there may be resources available to help you pay. You may be able to use the proceeds from the sale of your parents' current home to finance a remodel.
If they no longer have housing costs, they may be willing to use a portion of their pension or Social Security income toward payments on a home equity loan. All state governments have programs to fund minor repairs and renovations for accessibility (for eligibility requirements, contact your local Area Agency on Aging).
Buying a new home with your parent may prove to be a cheaper alternative to extensive renovations. Debbie King of Culver City, Calif. combined the profits from the sale of hers and her mother's condos and bought a $690,000 home nearby. Her mother's Social Security payments and IRA distributions cover half the mortgage, giving King a break on a house she couldn't otherwise afford.
Whatever you do, don't use the funds from your retirement stash, says Virginia Morris, author of How to Care for Aging Parents. "Take care of your own finances first, so your kids won't be picking up the tab for you someday," she says.
Make Life Easier
Once you've nailed down the big picture, focus on making your home a comfortable place for your parent to live.
Put a premium on safety. Falls are the No. 1 cause of injury among the elderly, and most of them occur in the bathroom, says Butler. The best solution is to spend $50 to $300 to install grab bars in the bath and shower. Check that the label says they meet the Americans with Disabilities Act guidelines for safety.
Use adhesive safety strips on the bottom of the tub or shower floor instead of plastic mats, which can slide easily, and use nylon mats with nonskid backing on the floors.
Poorly lit hallways are another danger area, says Bawden, so spend $250 to have an electrician install a light at each end of any hallway that runs 15 feet or more. You'll also want to get rid of throw rugs and replace plush wall-to-wall carpeting, which can become a tripping hazard, with flat and tightly woven material.
Eliminate entryway barriers. At the very least, you'll need to get rid of steps and curbs that can be especially troublesome in winter weather. You'll pay $1,500 each to make doorways wide enough to fit a wheelchair or walker. Bawden suggests first looking into installing doors with swing-clear hinges, which cost about $75 and can add an extra inch or two of space.
Consider the comfort factor. Under-the-cabinet kitchen lighting is a godsend for aging eyes. Custom jobs can run in the hundreds, but stick-on lamps that plug into an outlet sell for as little as $50.
You can install lever door handles, which are easier for arthritis-riddled hands to use than traditional doorknobs, for about $20 to $30 each. In the end, knowing your parent is safe under your roof can be worth the extra cost and aggravation of revamping your home.
Says JoAnne Fazio: "I wouldn't want my dad anywhere but right here."