NEW YORK (CNNMoney.com) -- Despite June being a heavy discount month, many retailers suffered disappointing sales at their stores, although Wal-Mart surprisingly escaped the bout of summer doldrums.
Among the retailers that reported their results early Thursday, women's clothing chain Chico's posted a dismal 7.3 percent drop in June sales at its stores open a year, a key measure of retail performance known as same-store sales.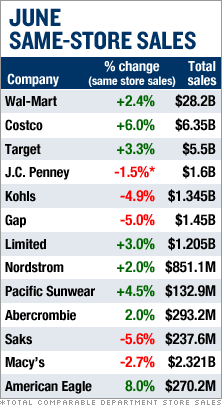 Sales at children's clothing chain Children's Place fell 4 percent, Gap's sales tumbled 5 percent while wholesale club operator Costco (Charts, Fortune 500) posted a 6 percent gain in its sales, just shy of analysts' expectations for a 6.1 percent increase, according to Thomson Financial.
A new consumer spending survey released Thursday by the America's Research Group (ARG) indicated that many shoppers were both reducing their spending and postponing big ticket purchases.
According to the survey, about 40 percent of 1,000 shoppers polled in early July said they reduced spending in June due to higher gas prices, while about 22 percent said they delayed a purchase of $599 or more.
"The impact of gas prices on the American consumer's psyche is not going away," Britt Beemer, chairman of ARG, said in the report. "The data reveal that retailers will experience difficult times and reluctant consumers for the important back-to-school and fall shopping periods."
Other factors, such as consumer dissatisfaction with spring fashions, also hurt overall sales, Beemer said.
Electronics charge up Wal-Mart's sales
But there were some successes.
Wal-Mart (Charts, Fortune 500), the world's largest retailer, posted a better-than-expected 2.4 percent same-store sales increase, citing strong year-over-year sales of flat-panel televisions, MP3 players, video game hardware and laptops and desktop computers to offset ongoing weakness in its apparel and home categories.
Wal-Mart had expected sales to come in flat to up 2 percent for the month.
What's more, the retailer said its computer sales were fueled by the recent introduction of select Dell computers at all Wal-Mart stores and Sam's Club locations in the United States.
For July, Wal-Mart said it expects same-store sales to be up 1 to 2 percent, but cautioned that its mostly paycheck-to-paycheck shoppers continue to be challenged by higher prices at the pump. The company also said it sees the same pressures on customers in many of its international markets.
"Consumers continue to be challenged financially, with more pressure on discretionary spending," Eduardo Castro-Wright, Wal-Mart's U.S. president and chief executive officer, said in a statement. "Gas prices have moved to be their chief concern in our latest survey and they appreciate the opportunity to save on everything."
Still, Wal-Mart reiterated its second-quarter profit forecast of 75 to 79 cents a share. "We remain in a challenging environment, but still believe the earnings guidance for the quarter is attainable," Tom Schoewe, Wal-Mart's chief financial officer, said in a statement.
Teen clothing retailer American Eagle Outfitters (Charts) once again proved that it's a favorite destination for young shoppers. The retailer logged a strong 8 percent jump in its June sales, beating expectations for a 4.4 percent gain.
According to Thomson Financial, which tracks numbers from 52 store chains, June same-store sales overall are expected to increase 1.8 percent, much softer than the 3 percent gain for the same period a year ago.
Excluding Wal-Mart, however, same-store sales are forecast to rise 2.6 percent, In June 2006, same-store sales rose a much stronger 4.3 percent, excluding Wal-Mart.
Of the 47 retailers that had already delivered their numbers, 53 percent missed analysts' sales estimates for June while 44 percent beat analysts' expectations.
Department stores in distress
Both Macy's and J.C.Penney (Charts, Fortune 500) took a hit last month. Penney's same-store sales fell 1.5 percent, while Macy's (Charts), which operates both its namesakes and Bloomingdale's chains, posted a 2.7 drop in its June comparable sales, worse than its initial forecast for sales to be flat to down 2 percent.
Macy's expects July same-store sales to flat to down 3 percent. The company also warned about its second quarter, saying it now expects profit for the period to be 20 to 30 cents a share, down from its earlier guidance of 35 to 45 cents a share.
Analysts, on average, forecast the retailer to earn 41 cents for the quarter, according to First Call.
Although the pullback in spending last month was anticipated after May's robust same-store sales gains, one industry watcher said he's not yet convinced that the majority of Americans are tiring of their favorite pastime.
"All of the news this morning strongly supports our thesis that only the lower one-third of the household market is under pressure while the rest of the U.S. household market continues to be a good shape, although there is some evidence of widespread interest in promotions and price cuts, Richard Hastings, vice president and senior retail analyst with Bernard Sands, wrote in a report Thursday.