NEW YORK (CNNMoney.com) -- As the world of baseball gathers in Cooperstown for the Hall of Fame induction ceremony this weekend, the term "performance-enhancing" is getting nearly non-stop negative attention.
Still, not all "enhancements" are bad for the game. Sure, it is terrible for players to use steroids or hormones to get an unfair advantage when hitting or pitching. But that's not what I'm talking about.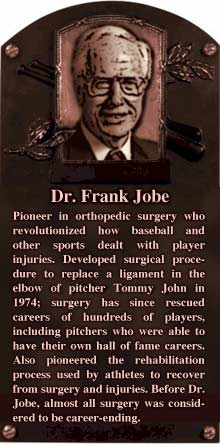 Baseball has benefited from other types of enhancements, namely medical breakthroughs that have helped prolong the careers of some of the game's star players.
It wasn't that long ago that players were basically viewed as disposable. Their careers were over as soon as they had an injury bad enough to require surgery.
The game would be much worse and less popular today if not for the advancements in surgical and rehabilitation techniques developed since the early 1970's. This resulted in a quiet revolution in the economics of the game, as well as the quality of play.
Few fans ever think about those changes, but they should. We would never have known such stars as Mariano Rivera, and we would have missed half the career of other stars such as John Smoltz, without the some of the advancements.
And the most appropriate way to bring attention to these changes and honor the man most responsible for them would be to induct Dr. Frank Jobe into Cooperstown.
Readers of this column know that I take this time each year to argue for the induction of non-players into the Hall, choices that are often unpopular with many and unlikely to occur, such as former union chief Marvin Miller and Yankees owner George Steinbrenner.
And I admit this year's choice is by far the longest shot I've suggested; I'll be stunned if he ever gets a vote for the Hall of Fame.
But the honor has been given to others who have been important pioneers in the game's early days, such as Henry Chadwick, a sportswriter who invented the box score and helped to popularize the game, or Roger Bresnahan, a journeyman catcher who is in the Hall for helping to develop shin guards and batting helmets. Neither is as worthy a pioneer or innovator as Jobe.
Jobe is a modest man probably less known by the average fan than the middle reliever or utility infielder on their favorite team. But most have heard of his most famous accomplishment -- the so-called "Tommy John surgery" that he performed on the then Dodger pitcher in 1974.
Jobe took a ligament from John's right (non-throwing) wrist and used it to replace a damaged ligament in his pitching elbow.
After a year and a half of rehabilitation that was almost as revolutionary as the surgery itself, John resumed his career in 1976, and went on to win another 164 games, 40 more than he won before the surgery.
Jobe, who turned 82 this month, is retired today and has had his own health problems recently that made him unavailable for an interview.
But Dr. Ralph Gambardella, the president and chairman of the Kerlan-Jobe Orthopedic Clinic where Jobe practiced, said that there have been team officials who have said over the years that he deserves to be inducted in Cooperstown.
"I think that certainly from our world, he's the logical godfather to be so honored," said Gambardella, who is also the president of the Association of Major League Baseball Team Physicians. "Before he came along, the baseball training room was where players played cards, smoked cigarettes and had the liniment of that time rubbed on their shoulders."
John, is another strong advocate of Jobe being honored, along with Dr. James Andrews, the current leader in the procedure and an important innovator in arthroscopic surgery.
"Dr. Jobe, Dr. Andrews and Tommy John should go in at the same time," John told me this week. "In those days, you hurt your arm, and it was "Jeez, that's too bad, you're back at home selling used cars at your buddy's lot.'"
John's career wins left him just short of the milestone 300 mark that probably would have lifted him into the Hall - he's never got more than just over a third of the votes he needed for induction.
Like Jobe, he doesn't get enough credit from voters for the impact that his comeback from surgery had on the game, and I would argue he's one of the most deserving candidates for induction not in the Hall. But that's another argument.
While it was the 1974 surgery that became famous, it was actually the second time Jobe had operated on John. The first was two years before when Jobe removed bone chips from John's elbow - today a simple procedure that rarely gets attention. Not so in 1972.
"When he told me about bone chips, I was mortified," John recalled. "I had never heard of anyone who had successful bone chip surgery. We had a kid when I was with the White Sox named Greg Bollo who could really throw the ball. But after he had chips taken out in 1966, he was never able to come back. There were lots of guys like that. It was a real shame."
But John went 16-7 with the Dodgers in 1973 and when he injured his arm the next year, he was less nervous about the radical surgery than he had been with the bone chips.
"A lot of players thought I was wasting my time," said John. "Be that as it may, I wanted to play ball. I would have done whatever it took to play again."
Will Carroll, author of the column "Under the Knife" for Baseball Prospectus and an expert on sports injuries, said the surgery Jobe basically improvised on John was incredible for its innovation as much as its success.
"To this day, there are few variations over what he did off the top of his head," said Carroll. "That operation was so close to perfect, I can't picture anyone even trying to change it."
Carroll also thinks that Jobe should be in the Hall because of his impact on the game today. According to some estimates, as many as 75 to 100 active pitchers have had Tommy John surgery.
Jobe not only led the way in the elbow surgery, he also was an innovator in repairing shoulders and knees. And his innovation that gets no attention but has had great impact on the game was the rehabilitation process he and his partners devised for athletes recovering from surgery, said Gambardella.
"The thinking used to be to immobilize the elbow or shoulder after surgery. All the tissues got stiff and never got back into shape," he explained. "It was extremely novel and ballsy to call for early, aggressive rehabilitation."
In addition, Jobe helped to train many of the doctors who are performing the surgery today. Carroll said virtually all surgeons who are leaders in the field got their start working with either Jobe or Andrews.
The surgery is becoming more and more common. John, who is manager of a minor league team in Bridgeport, Conn., said he has eight pitchers on his staff alone who have had the surgery named after him.
Unfortunately, the surgery is being done on younger and younger pitchers, as kids pitching in Little League and on travel teams are putting too much strain on their arms.
Even more disturbing, there are fathers who want to have their sons get the surgery on healthy arms in the mistaken belief that they'll be stronger afterwards than they would with their "normal" arm. That is almost as wrong as taking steroids.
"The whole reason the guys throw harder after the surgery is that they had a problem with their elbow and they didn't realize it," said John. "The surgery will only allow you to throw the ball as hard as God intended you to throw the ball."
But in an era when "performance-enhancing" has a bad name, fans should think of the positive implications of that term.