NEW YORK (CNNMoney.com) -- Stocks looked set to remain in recovery mode Tuesday following strong results from General Motors and ahead of a barrage of economic reports.
At 7:30 a.m. ET, futures were higher, pointing to solid gains at the market open.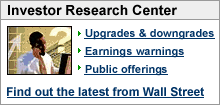 Investors are likely to look to the economic calendar, which is chock full of reports, for direction Tuesday. Readings on personal income and spending, consumer confidence and construction spending are scheduled to be released.
The June personal income and spending report includes a key inflation reading, known as the core PCE deflator, which is believed to be one of the price measures most closely watched by the Federal Reserve.
The Fed is believed to want to see that indicator, which tracks prices paid by consumers for goods other than food and energy, up 1 to 2 percent on an annual basis. It was up 1.9 percent in the May report, when it posted a 0.1 percent monthly increase. But economists surveyed by Briefing.com are looking for a 0.2 percent monthly rise this time.
Automaker General Motors (Charts, Fortune 500) posted better-than-expected second-quarter earnings as its U.S. auto unit returned to the black after more than two years of losses. The automaker earned $1.4 billion, or $2.48 a share, excluding special items, compared with $1.2 billion, or $2.03, on that basis a year earlier.
Analysts surveyed by Briefing.com had forecast that GM's earnings would fall to $1.13 excluding special items in the most recent period, due to the sale of 51 percent of its money-making finance unit, GMAC, during the last year. The credit unit, reported a bigger-than-expected hit from subprime mortgage woes Monday.
Wall Street suffered its worst week in more than four years last week as credit concerns coursed through the market. Those fears subsided Monday as stocks rebounded, but investors remain nervous about the outlook for stocks.
In global trade, most Asian markets finished the session higher. European stocks advanced in early trading.
Shares of British drugmaker GlaxoSmithKline (Charts) gained 3 percent in London trading Tuesday after a jump of 5 percent in after-hours U.S. trading Monday. A Food and Drug Administration advisory panel recommended that Glaxo's best-selling diabetes drug, Avandia, remain on the market despite an analysis showing links to increased risk of heart attack.
In major U.S. corporate news, Rupert Murdoch's News Corp. (Charts) is close to winning Dow Jones (Charts), but last-minute negotiations over fees are holding up the deal, according to published reports. There is also the chance that Murdoch will ditch his $5 billion takeover bid if he doesn't win enough support from the controlling Bancroft family.
Billionaire investor Nelson Peltz said Monday that his restaurant company, Triarc (Charts), would be prepared to offer $37 to $41 a share for struggling rival Wendy's International (Charts), a premium of 10 to 22 percent over its Monday closing price. But he gave the company until Wednesday to agree to a confidentiality agreement for talks to continue. Shares of Wendy's jumped 8 percent in after-hours trading on the news.
Oil prices climbed Tuesday and remained in sight of the record high of $78.40 hit a year ago, as analysts forecast another weekly decline in U.S. crude inventories in Wednesday's report. The price of U.S. light crude gained 47 cents to $77.30 a barrel in electronic trading.
Treasury prices fell in early trading ahead of the core PCE reading, taking the yield on the 10-year note to 4.85 percent from 4.80 late Monday. The dollar was lower versus the euro but higher against the yen.