NEW YORK (CNNMoney.com) -- Despite heavy back-to-school discounting from Wal-Mart and other merchants, retailers reported a mixed bag of sales at their stores last month.
Wal-Mart (Charts, Fortune 500), the world's largest retailer, said Thursday that sales at its stores open at least a year, a key measure of retail performance known as same-store sales, rose 1.9 percent.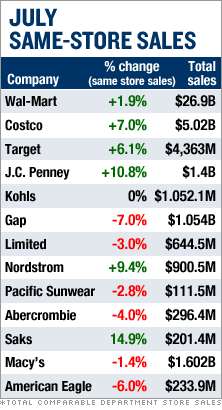 That was at the high end of its earlier guidance for sales to rise 1 to 2 percent. Total sales rose 8.8 percent to $27.5 billion in July.
The retailer slashed prices on thousands of school products early in the back-to-school season in hopes of capturing a sizeable chunk of the estimated $18.4 billion that Americans are expected to spend on school-related shopping this year.
According to the National Retail Federation (NRF), back-to-school is the second most-important selling period for merchants after the gift-buying months of November and December.
Wal-Mart said in a statement that the company was "encouraged by positive early signs in back-to-school and back-to-college categories" but cautioned that "apparel and home overall continued to be soft and are expected to remain so through the third quarter."
Grocery sales and electronics, including televisions, computers and video games, were among the best-performing categories at Wal-Mart last month.
Wal-Mart has warned that its mostly paycheck-to-paycheck shoppers continue to be challenged by higher prices at the pump. To that end, the company expects August sales to rise a mediocre 1 to 2 percent -- much less than its rival Target, which expects a 4 to 6 percent same-store sales increase in August.
Back-to-school shopping not over yet
Thomson Financial, which compares sales at 47 retail chains, said July same-store sales overall rose 2.9 percent, falling short of last year's 3.9 percent gain.
Excluding Wal-Mart, same-store sales rose 3.8 percent for the month.
The final tally showed that 66 percent of retailers missed sales estimates, while 34 percent met analysts' forecasts.
But despite the disappointing start to the back-to-school period, one analyst said the season is far from over, and that merchants could still recoup some of the sales shortfall in August and even as late as September.
"As we've seen with the fourth-quarter holiday season, back-to-school is also extending later into the year," said Ken Perkins, president of Retail Metrics.
"The bulk of school shopping is just ahead of us because it takes place in three waves," Perkins explained. "The first wave is in July. Then kids wait to see the apparel trends and shop for clothes in August. Finally in September, they're shopping for cool weather merchandise."
Still, other industry experts weren't feeling so optimistic.
"People who think retailers can recoup sales, especially apparel sales in September, are mistaken. It's not going to happen," said Richard Hastings, chief retail analyst with Bernard Sands.
"September 2006 was a very strong sales month. That means retailers are also up against very tough comparisons in that month from a year ago," he said.
"Here's what happened. There's was a heat wave in July. That hurt mall traffic around the country. So retailers had to get even more promotional," Hastings said.
"There's going to be certain amount of margin pressure in the third quarter. I think retailers are on the cusp of a few third-quarter warnings," he said.
Teen chain in turmoil
Among the best performers last month were wholesale club operator Costco (Charts), which posted a strong 7 percent jump in its July sales.
Analysts were expecting the company to log a 5.5 percent gain, according to sales tracker Thomson Financial.
And clothing seller Zumiez posted an impressive 9.7 percent surge in its July same-store sales.
However, some teen clothiers continued to suffer very disappointing sales. Among them, music-inspired clothing chain Hot Topic (Charts), which recently initiated a makeover of its stores in an effort to boost sales, was out of favor with teens last month. The chain posted a dismal 7.4 percent drop in its July sales.
Sales at Gap Inc (Charts, Fortune 500)., the No. 1 clothing chain, tumbled 7 percent. In a statement, Gap's namesake division said sales rose 2 percent and plunged 18 percent at its Old Navy division.
"Old Navy is now a big question mark for Gap," Hastings said.
Some merchants blamed the sales softness on a tax-free week of shopping that some states schedule every year in early August. Retailers argue that the tax-free events tend to move a portion of their sales out of July and into August.
American Eagle Outfitters, which reported a disappointing 6.4 percent decline in its same-store sales, said in a statement that its poor results were "largely due to later back-to-school starts across the country, as well as Florida and Texas moving tax-free events from July to fiscal August."
But that didn't hurt sales at department store operator J.C. Penney (Charts, Fortune 500), which reported an impressive 10.8 percent sales jump last month.
Sales at high-end chain Nordstrom (Charts, Fortune 500) also rose a strong 9.4 percent in July, beating analysts' estimates for a 4.2 percent gain.
"What we're seeing is the strong retailers eating sales of the weaker ones, and the weaker retailers are starving," Hastings said. "This is an economic issue."
"The lower one-third of households don't have the same liquidity that they had two years ago," explained Hastings.
"The mid-tier consumers are still ok. But if the liquidity problems starts to trickle up and go deeper into the middle class, then we could have a consumer-led recession in 2008."