NEW YORK (CNNMoney.com) -- Wal-Mart and Home Depot, two of the nation's largest retailers, blamed the housing market slump and ongoing turbulence in the mortgage market for hurting sales and profits in the second quarter.
Wal-Mart, which has already stepped up its price-cutting this year, warned Tuesday that the problems are spreading beyond its U.S. stores to international markets including Mexico and Canada - and rolled back its profit forecast for the full year.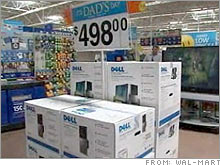 "We need to improve our underlying performance while we compete with a difficult macro-economic environment in many markets, including the U.S., Mexico and Canada," Wal-Mart Chief Financial Officer Tom Schoewe said in a pre-recorded call to discuss the company's second-quarter results.
Wal-Mart's (Charts, Fortune 500) predicament rattled investors since its status as the world's largest retailer also makes it a proxy for the health of the consumer. Its shares tumbled more than 5 percent in heavy trading on the New York Stock Exchange.
Home Depot, the No. 1 home improvement chain, blamed housing market woes for a drop in its profit and warned that it doesn't anticipate sales to improve until early next year. Home Depot (Charts, Fortune 500) shares fell about 1.7 percent, also on the NYSE.
Wal-Mart: Deeper discounts ahead?
For Wal-Mart's second quarter, earnings rose to $3.1 billion, or 76 cents per share, from nearly $2.1 billion, or 72 cents a share a year ago, meeting analysts' forecasts on sales that were slightly below what Wall Street was expecting.
Sales in the quarter rose 8.8 percent to just under $92 billion versus forecasts for $92.6 billion.
Sales at Wal-Mart stores open at least a year, a key gauge of retail performance known as same-store sales, rose 1.9 percent in the quarter.
More importantly, Wal-Mart warned on profits for the full year, saying it now expects earnings of $3.05 to $3.13 a share, down from its earlier guidance of $3.15 to $3.23 a share. Analysts had expected the retailer to log a profit of $3.15 for the full year.
"This was a challenging quarter. Our underlying performance was not what we had expected of ourselves," Wal-Mart CEO Lee Scott said during the call. He added that Wal-Mart's merchandise "overall was not where it needs to be."
While Wal-Mart's grocery, pharmacy and entertainment products sold well during the quarter, which also marked the start of the important back-to-school selling season, the retailer is still struggling will soft sales in clothing and home-related products.
The back-to-school period is typically the second most-important selling season for retailers after the holiday months of November and December.
During the quarter, Wal-Mart slashed prices on thousands of school-related products in hopes of spurring sales and grabbing a bigger chunk of the estimated $18.4 billion Americans will spend on school products this year.
Still, Scott said Wal-Mart's core paycheck-to-paycheck consumers were too constrained by economic pressures.
"Their top economic concerns are increased cost of living and gas prices and many [of our] customers don't have much money left at the end of the month," he said. "We understand the dynamics of our customers and what needs to be done to drive more momentum in the third quarter."
"The one thing that isn't changing is our mission," Scott said. "We will deliver great products at low prices."
Eduardo Castro-Wright, CEO of Wal-Mart Stores U.S.A, echoed Scott's concerns. "Higher energy, gas and interest rates are all stretching [our customers'] paychecks," Castro-Wright said. The one bright spot, he added, was electronics, noting that Wal-Mart's recent efforts to beef up its offerings of name-brand electronics was paying off.
"Our electronics sales were above plan and ahead of last year," he said. "We're also happy with sales of our Dell PCs which we introduced to Wal-Mart and Sam's Club last month."
Lazard Capital Markets analyst Todd Slater, who has a "buy" rating on Wal-Mart, said that if Wal-Mart can boost sluggish clothing sales, it could "help stabilize the ship."
"Although Wal-Mart continues to struggle due to the challenged low-end consumer and its own merchandising missteps in the apparel and home area, assuming the merchant team can deliver higher caliber product in soft goods, as it has in electronics, we believe comparable sales can accelerate and gross margins can expand in 2008," Slater wrote in a note to clients on Tuesday.
Home Depot: Looking beyond 2007
Home Depot blamed the housing market softness and the turmoil in the subprime market for its drop in its second-quarter profits.
Earnings fell to $1.6 billion or 81 cents a share in the second quarter from about $1.9 billion or 90 cents a year earlier. Excluding discontinued operations, its profits came in at 77 cents a share, better than the 72 cents expected by analysts, on slightly weaker-than-expected sales.
In a conference call, CEO Frank Blake also called the period a "challenging one" for the company.
"As the subprime mortgage problems intensify it's an important concern for us since subprime mortgages accounted for 22 percent of the dollar volume in the mortgage market last year," Blake said.
Subprime loans are made to consumers with poor credit, who are also core customers for retailers like Wal-Mart and Home Depot. A jump in subprime mortgage delinquencies has roiled the housing market - and is now affecting retailers as well.
Home Depot's same-store sales fell 5.2 percent in the quarter from a year earlier - and the average purchase dipped 2.8 percent to $51.30 - but Blake said comparable sales trends had improved over the previous quarter.
"We've gained market share in some key product categories, we've had positive comparable sales in Canada and double-digit comparable sales gains in Mexico," Blake said. "The second quarter was more difficult for us than disappointing."
The company said lumber, lighting, kitchen and bath were weak in the quarter while sales of flooring, paints and outdoor products such as decks and grills did better.
"We were less price aggressive in July. And as we reworked our assortment strategy, that helped our gross margins," Blake said. At the same time, he warned of "some pressure ahead for Home Depot."
"The third and fourth quarters will be more difficult. But we are investing in our stores and improving customer experience but we'll see a soft 2007 into 2008," he said.