NEW YORK (CNNMoney.com) -- The upcoming fourth quarter is the make-or-break period for the retail industry and the path leading to the crucial holiday season is peppered with landmines.
As much as 50 percent of merchants' annual profits and sales are accounted for in two months: November and December.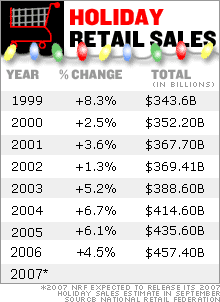 So far consumers continue to spend confidently, unmoved by the growing crises in the housing and credit markets.
Retail economists credit a still resilient jobs market and growth in real income for making Americans feel confident about their spending ability. But that confidence is waning according to one key barometer.
The Conference Board on Tuesday reported a steep drop in consumer confidence in August, the biggest in nearly two years and possibly the first clear sign that consumer spending - which accounts for two-thirds of the nation's economy - is on the brink of a contraction.
And that possible contraction in consumer spending along with these four red flags threaten 2007's holiday season.
Double trouble for retailers. Falling home prices, subprime mortgage and credit market meltdowns are finally pressuring consumer spending.
"The lower one-third of U.S. households who got into subprime mortgages in the later stages of a housing boom are now having problems making their payments and they're facing foreclosures," said Nigel Gault, U.S. economist with forecasting firm Global Insight.
The broader consumer base of middle-income households, who fuel a bulk of consumer spending, aren't losing their homes, but they're facing declining home prices after years of a price boom. So far, consumer spending has outpaced income growth because they tapped into home equity to fuel shopping habits.
But if creditors tighten their lending standards across the board, including consumer loans, the real concern for retailers is that middle-income shoppers will start to pull back.
"Consumers will ask 'how aggressive do I want to be with my spending'" Gault said.
"There's good reason for spending to pull back in the months ahead. It won't provoke a recession because the job market is holding up and real wages are up," he said.
Still, if nervous consumers start saving more of their wages and spending less then "I think the holiday season will most likely be a subdued one," he said.
Store traffic declining: Shopping trips to malls have declined for 6 of the past 7 months months, according to Chicago-based market research firm ShopperTrak RCT.
"It's the first time that we've seen traffic fall across the United States and we're alarmed by this continuous drop," said Bill Martin, CEO of ShopperTrak, which monitors traffic and sales at close to 50,000 retail locations nationwide.
Wal-Mart (Charts, Fortune 500), the world's largest retailer, said consumer traffic to its stores last quarter was softer than expected. Gap Inc., the No. 1 clothing chain also complained of weaker traffic trends last quarter.
Americans say they are making fewer trips to stores to save on gas, ShopperTrak's Martin said. They're also buying more online and bulk shopping at wholesale clubs like Costco and Sam's Club.
If traffic continues to fall in September and October, then sales growth might eventually reverse course as well, Martin said.
"We've rarely seen month-after-month traffic declines stacked up like this," Martin said. "When sales are flat and traffic is dropping, retailers are not as alert to the situation. When sales start to drop, then it might be too late for them to correct the situation."
"If this traffic trend persists, retail sales will suffer in January, February and in March," he said.
"Diminishing traffic is a phenomenon that tends to feed the strongest and starve the weakest," Richard Hastings, chief retail analyst with Bernard Sands, wrote in a note last month. "Weaker retailers, without enough traffic to fuel sales could be faced with sloppy inventory planning and higher [discounts] cutting into their profits," he said.
Trouble in toyland: The fourth quarter is crucial to toymakers and retailers. Over 70 percent of toy shipments to retailers and two-thirds of all toy retail sales take place in November and December.
Therefore, any significant threats to toy sales, such as this year's big recalls by Mattel (Charts, Fortune 500) because of lead poisoning found in toys made in China, could have a damaging financial impact for both toymakers and retailers.
"Retailers will have to continue to sell Chinese-made toys because most toys are manufactured there," said Chris Byrne, an independent toy industry analyst. "I don't think the recalls per se are the only the only threat out there to toy sales this year.
"We will see in the coming months whether or not consumers are feeling confident that enough testing has been done on toys sold in the U.S.," he said. "But the housing market could have a greater impact on toy sales."
Can clothing sellers iron out sales wrinkles? Retailers have blamed weather woes, gas prices and the housing market for weakness in clothing sales this year.
July was an especially punishing month for some specialty apparel chains like Abercrombie&Fitch (Charts) and Hot Topic. For Gap Inc (Charts, Fortune 500)., the No.1 clothing seller, the problem continues to be poor merchandise selections that don't resonate with customers.
Clothing typically is a top holiday gift purchase and merchants have relied on holiday sales to fuel a bulk of their annual profits and sales.
However, in recent years, consumers' love affair with the latest iPod, cellphones and other gadgets has cut into clothing purchases. Last holiday season, apparel sales rose just 3 percent compared to a 13.7 percent jump in electronics purchases, according to the NRF.
If this trend persists beyond the holiday season and into 2008, then soft sales combined with weakening economic conditions could force some clothing chains out of business or be put up for sale.
Paul Altman, principal with the Sage Group, a New York-based M&A firm that focuses on retail companies, thinks some struggling clothing sellers may be able to ride out a few more months of weak sales.
"[But] if the economy has more prolonged difficulty, short-term liquidity needs of these companies may force them to make a move more quickly than they might desire," he added.
"The true test will be what happens [over the holiday season] when consumers vote with their wallets," Altman said. "We would expect the moderate-sized chains to be hit the hardest in any downturn, if one occurs," he added.