How Tiger Woods' troubles will hurt golf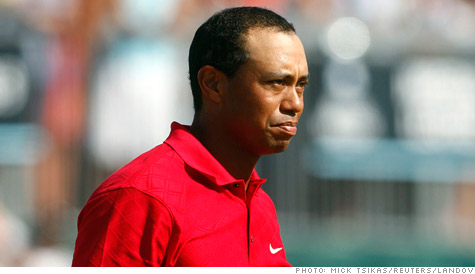 NEW YORK (CNNMoney.com) -- Tiger Woods' much-publicized marital problems have started to cost him money. But they're probably going to hurt the pro golf tour, and its various sponsors and broadcasters, even more.
At the very least, Woods could lose significant earnings from the tour. In 2009, he was the sport's top money winner with purses totaling $10.5 million.
Sports marketing consultant Marc Ganis said that Woods' estimated $1 billion in lifetime earnings on and off the course mean his finances are completely secure, even if he has to pay a large divorce settlement. He said the bigger hit could be for the rest of his sport.
"The golf industry needs Woods far more today than he needs the golf industry," said Ganis.
The PGA Tour issued its own statement Friday saying it supported Woods' decision to take a leave. "We look forward to Tiger's return to the PGA Tour when he determines the time is right for him," the statement said.
Ty Votaw, executive vice president of the PGA Tour, said the tour couldn't speculate on the economic impact of Woods' absence because the length of his leave isn't known yet.
He said final financial figures from the 2009 season are not yet available, but that they will show a decrease from the record $124 million the tour donated to charities in 2008, a close approximation of the tour's profit. He attributed the decline to the recession.
David Carter, executive director of the Sports Business Institute at the University of Southern California, said losing Woods comes at a bad time for the PGA, given the bite the recession has put on sponsorships.
"The PGA is just now fully appreciating what the financial fallout may be," he said. "Its fallout may last for years."
Viewership for golf tournaments is likely to plunge as long as he stays off the tour. A study by rating firm Nielsen a year ago, when Woods was returning from a six-month injury rehabilitation, found that ratings for tournaments he missed in 2008 after playing them in 2007 were down an average of 47%.
Even the major tournaments are likely to take a hit in their television audience if he misses them. Nielsen found that viewership for the final day of the Masters fell 20% in the years that Woods did not win the most watched tournament.
Neal Pilson, a sports broadcasting consultant who used to run CBS Sports, said the market for ads on this year's tournaments was soft even before Woods' problems burst into view. "Now everyone is in a wait-and- see mode," he said.
Most of the tournaments have multi-year contract deals, but networks might need to offer additional ad time to advertisers if the ratings plunge as much as feared, said Pilson. But he said the market won't collapse altogether, given the fact that the average golf viewer is more affluent than the fans of many other sports.
"We did sell golf before Tiger showed up. But just as there was a Michael Jordan bubble when he was winning championships with the Bulls, there has been a Tiger bubble in golf ratings," he said.
But Ganis said even after Woods returns networks might be less willing to sign new deals for the second-tier tournaments due to losses they might suffer during his absence.
But television deals are only part of the revenue stream for the PGA. It also depends heavily on sponsorship dollars. He said Woods' problems give sponsors one more reason to question the money they'll spend on golf tournaments.
"They have to try to calibrate what their spending will be in the sport at a time when marketing budgets are very hard to justify," said Carter.
While some tournaments have gone out of business in the last two years, they have generally been replaced by new tournaments, including one which Woods himself hosts along with AT&T (T, Fortune 500), one of his sponsors.
Woods' sponsors pull back
But the tour isn't the only one that could lose sponsors. The bad publicity about his admitted infidelity could also cost Woods some of his own sponsorship deals down the road.
The first golf shoe to drop came Sunday when business consultant Accenture, which had previously made Woods the focus of its marketing campaign, announced it would no longer use him because "the company has determined that he is no longer the right representative for its advertising."
But Accenture did not respond to questions about whether it would have to continue to pay Woods under terms of his contract. Experts in the field say that while sponsors are likely to keep their Tiger Woods commercials off the air while he takes his leave from the game, most will continue to pay him the millions owed under those contracts.
The loss of sponsorship money in the future is inevitable given the damage done to the Woods image in the last couple of weeks.
"He probably won't have to take less from the sponsors he keeps," said Ganis. "He's made a lot of money for those guys. But he'll probably have fewer sponsors in the future as these deals come up for renewal."
He said he thinks the deals with AT&T (T, Fortune 500), PepsiCo's (PEP, Fortune 500) Gatorade brand and Procter & Gamble's (PG, Fortune 500) Gillette are the deals most at risk. AT&T issued a statement over the weekend that it is "presently evaluating our ongoing relationship with him."
But Ganis said Woods is certain to keep at least a couple of his top sponsorship deals -- including his biggest at Nike (NKE, Fortune 500), reported to be worth $40 million.
"There was no Nike Golf before Tiger. Nike's not going anywhere," he said. "Neither is (video game maker) Electronic Arts."
Nike issued a statement saying that Woods and his family has "Nike's full support," and that it looks forward to his return to playing. Nike Golf suffered a $77 million, or 11%, revenue decline in the fiscal year ended May 31, which it attributed to the recession cutting into discretionary spending, even as the company's overall revenue rose 3%.
EA (ERTS) also issued a statement supporting Woods Friday, stating "At this time, the strategy for our Tiger Woods PGA Tour business remains unchanged."
Gillette's statement over the weekend did not speak of its long-term plans for its deal with Woods, saying only "As Tiger takes a break from the public eye, we will support his desire for privacy by limiting his role in our marketing programs."
Gatorade did not respond to requests for comments Monday.