Fed will hike rates - in 2011
NEW YORK (CNNMoney.com) -- It appears 0% is here for the foreseeable future.
A year ago, the Federal Reserve took its key overnight lending rate, the fed funds rate, down to near 0% for the first time in its history in an effort to keep the economy from falling into depression.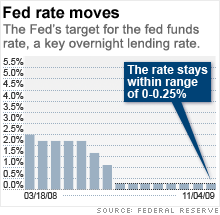 The cheap money meant lower rates for consumers on credit cards and home equity loans, as well as for many business loans.
The threat of a depression is widely acknowledged to have passed and most economists believe the economy has begun at least a modest recovery. But the Fed hasn't moved the rates since, and experts don't think they're likely to do so for the foreseeable future, perhaps not until 2011.
Fed funds futures on the Chicago Board of Trade, which track the key rate, show investors aren't betting on a hike anytime next year.
Part of that is because of talk from Fed officials. Fed Chairman Ben Bernanke, named Time's Person of the Year on Wednesday, has repeated frequently that one of the problems of the Great Depression was that the Fed raised rates too quickly when the economy first showed signs of life, causing a second, much more painful downturn that extended the Depression for years.
Economists say they think the chairman and many other policymakers are willing to wait too long to raise rates rather than risk hiking too soon.
"I think they'll leave the taps open as long as possible, until they're absolutely certain the economy is back on track," said Anthony Michael, head of fixed income for asset manager Aberdeen's Singapore office.
In recent statements issued after policy-making meetings, the Fed keeps cautioning that it expects economic conditions "likely to warrant exceptionally low levels of the federal funds rate for an extended period."
That language is widely expected to stay in place when the central bank concludes a two-day meeting Wednesday.
The risk of 0%
But leaving rates at such levels is not without significant risks.
Low rates can sow the seeds of inflation, which can eat into workers' earnings and squeeze budgets. It also has been blamed for the fall in the value of the dollar versus other major currencies, such as the euro, which in itself can limit Americans' buying power.
Beyond that there are concerns that cheap rates can feed asset bubbles. Many blame the Fed's decision to leave rates at its previous record low of 1% for 12 months from June 2003 to June 2004 as a major factor in feeding the housing bubble. The low rates caused builders to overbuild, lenders to make riskier loans seeking better returns, and consumers to use the cheap credit to buy homes they ultimately would not be able to afford.
While another housing bubble is not likely, some are now worried about bubbles in U.S. stock and bond markets, as well as in some commodities such as gold. The Standard & Poor's 500 has gained 64% since it hit a low in March.
All those fears have prompted some in the market to argue the Fed risks falling behind the curve if it doesn't raise rates sooner rather than later. But others dismiss those fears.
"Am I worried about the Fed being behind the curve in raising rates? At this point I want to make sure there's a curve," said David Wyss, chief economist for Standard & Poor's. He said a rebound in hiring could prompt the Fed to move as early as next summer.
But others think the Fed will wait until it sees both a pickup in consumer spending and inflation warning bells.
"The consumer is not a viable spender right now and won't be throughout most of 2010," said Jeffrey Burchill, chief financial officer for business property insurer FM Global. "If you're not seeing spending, it's going to be difficult to raise rates even if there's early signs of inflation. Similarly, if you see spending but without signs of inflation, there's no need to raise rates."
While economists think there's a chance the Fed could raise rates late next year, few would be surprised to see them stay on hold all the way through 2010. A survey of 48 top economists by the National Association of Business Economics foresees rates at current levels through the first quarter of 2011.
Part of the reason is the Fed has done so much more than simply cut rates to nearly 0% in an effort to spur the economy.
It has bought more than $1 trillion in mortgages in an effort to keep rates low and spur home sales and building. It also has bought hundreds of billions of Treasurys and debt issued by mortgage finance firms Fannie Mae and Freddie Mac. And it has offered a number of other programs designed to jumpstart lending to small businesses and consumers.
Many believe the Fed will have to sell a significant portion of those assets into the market before it is ready to raise rates
"There are too many things that have to happen before the Fed is in position to (raise rates) again," said Kevin Giddis, managing director of fixed income at investment house Morgan Keegan.