From manufacturing to massage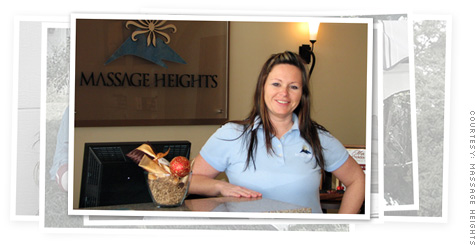 NEW YORK -- Finding any job is hard enough these days, and in a declining industry like manufacturing, opportunities are dwindling fast. But some proactive workers have found a solution: retraining.
To make themselves more marketable, 21% of workers plan to go back to school to obtain a formal degree, certification or other training, according to a Career Builder Industry Trends survey conducted earlier this year.
Holly Jones was one of the many who realized she needed to find a new career after she was laid off.
Jones, 36, had 10 years under her belt working on an assembly line at a Maytag factory in Newton, Iowa. But when the company decided to close down the manufacturing plant there in 2007, she was not only without a job, but also without a career.
As the economy continues to shift away from a manufacturing to a service-based economy, there have been diminishing opportunities in Jones' old area of expertise.
"I knew I wanted to do something that I thought would be long term," Jones said of her decision to switch directions. So when an acquaintance tipped her off about opportunities for massage therapists in her area, Jones quickly enrolled in the Iowa College of Natural Health.
Maytag picked up the tab under the North American Free Trade Agreement Transitional Adjustment Assistance Program, which covers workers who are laid off because of a shift of production from the U.S. to Mexico or Canada. Jones' old employer paid for her tuition, materials and even provided a weekly stipend to cover her expenses during that time.
In less than a year she received her license and applied for a position with Massage Heights, a new franchise that opened in the nearby city of Ankeny.
San Antonio, Texas-based Massage Heights hired approximately 1,000 employees in 2009, with 600 as massage therapists, the company said. They project to hire an estimated 1,200 massage therapists in 2010 as they open new franchises across the country.
"I sent them an application and then they called me in for an interview and hired me the next day," Jones said. She has been working there as a full-time massage therapist since January and couldn't be happier with her new career choice.
"It's easier on the body, more satisfying and I'm making more money," she explained. With a more flexible schedule, she's also able to drop her kids off at school and be there when they get home.
Another perk? The potential for growth her new profession offers. "I feel more secure in this business," Jones said.
A new direction
With 10% unemployment and 15.4 million Americans now seeking work, many job seekers are considering a career change in hopes of landing a job.
Specialized training is an increasingly popular way to break into a new industry. Vocational, technical and trade schools, which provide a formal education in skilled trades from catering to computer programming, are seeing a surge in enrollments.
Those that take advantage of the training opportunities are the ones that will have greater success finding employment, according to Cory Eckel, regional vice president of Adecco Group North America, a unit of the world's largest employment staffing firm.
"The more education or training a person has, the more doors that can be open for them," he said.
Of workers who were laid off in the last year and found a new job, 38% found them in different industries or fields, according to separate Industry Trends survey Career Builder conducted in August.
And it doesn't have to be a life-long commitment, Eckel noted. Try "another industry that might be hot at that particular moment."
Eckel recommends that other job seekers take advantage of training courses at community college or local universities, which are often offered in the evenings as well as during the day, and at staffing firms and temp agencies.
"If you take those opportunities that are available, then you'll be more desirable than those that don't," Eckel said.
Read updates on the people previously profiled in Hired! Join the Hired! group on Facebook.
Have you found a job recently? We want to hear from you. Send us an email and attach a photo. Tell us where you got hired and how you landed the job and you could be profiled in an upcoming story on CNNMoney.com. For the CNNMoney.com Comment Policy, click here.