Cutting-edge carmakers are inventing what we'll drive next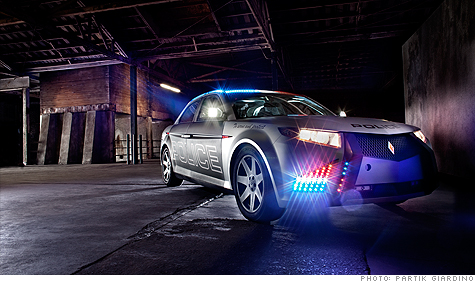 (Fortune Small Business) -- Of all the changes in the American economy over the past 18 months, perhaps the most startling has been the rapid collapse of the major car manufacturers.
As the Great Recession wreaked havoc on the credit market and job losses mounted, car sales nose-dived and Detroit finally ran out of gas. General Motors -- once a model of American ingenuity and prosperity -- entered Chapter 11; Chrysler was taken over by Italy's Fiat; and Ford is struggling to survive.
But as the risk-averse Big Three failed, innovation-minded entrepreneurs saw opportunity. Independent carmakers are using a variety of cutting-edge technologies -- from electric-powered engines to new construction materials to rapid customization -- to drag what's left of the U.S. auto industry into the 21st century.
"We are seeing an explosion of ideas," says Tom Libby, president of the Society of Automotive Analysts, based in Birmingham, Mich. "The automotive industry was very much an oligopoly, but the turmoil and uncertainty have changed that. Now hundreds of new entrants are vying to be innovative."
These upstarts are also taking advantage of the fact that for the past 30 years big car manufacturers have flooded the market with dozens of brands for every type of consumer -- fracturing the auto market into a series of niches. Which plays directly into the hands of small competitors.
"It's a great opportunity for small manufacturers with niche products," says Laurie Harbour-Felax, president of the Harbour-Felax Group, a Detroit-based automotive research firm. "The whole business is going that way."
By the end of 2010, small carmakers will bring to market luxe high-performance cars as well as purpose-built vehicles for package delivery and mid-distance commutes of, say, 30 miles or less. Even in-town drivers who are going only 10 miles are getting their own brands.
Of course, some doubt the wisdom of playing it small in the car business -- especially after the economy rebounds. The big car companies in Detroit, Toyota City and Stuttgart won't go down without a fight and are already plotting their comebacks.
Still, there is palpable swagger among small carmakers. Here are six at the starting line, waiting to race for the biggest prize of all: the future of the American automobile.