Bank failure tally reaches 140
NEW YORK (CNNMoney.com) -- Banks in six U.S. states were closed Friday, bringing the total number of failed banks this year to 140, at a cost of over $1 billion to the Federal Deposit Insurance Corporation.
Among the institutions seized by regulators was a so-called "bankers' bank" in Illinois called Independent Bankers' Bank (IBB), which had about 450 client banks in four U.S. states.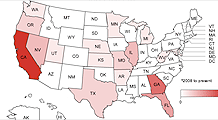 Unlike the majority of banks closed this year, IBB did not take deposits from, or make loans to consumers. Instead, it offered a variety of services such as check clearing and credit card operations to community banks around the country that find it too costly to do this on their own.
The FDIC said it created a bridge bank to take over the operations of the Springfield Ill.-based institution.
Earlier this year, regulators seized Atlanta-based Silverton Bank, which was one of the largest U.S. bankers' banks. Silverton often acted as the lead banker on some syndicated commercial real estate loans, and its collapse was seen as hastening the demise of many of its regional partners.
Separately, Illinois state officials closed Citizens State Bank. The FDIC created the Deposit Insurance National Bank of New Baltimore (DINB) to take over the failed bank. DINB will remain open for 45 days to allow depositors of the failed institution to open new accounts elsewhere.
In Florida, Peoples First Community Bank, which operated 29 branches, was closed by the Office of Thrift Supervision (OTS) and the FDIC was named receiver.
Hancock Bank of Gulfport, Miss., will assume the failed bank's $1.7 billion in deposits and will purchase the bulk of its $1.8 billion in total assets.
Two banks in California were also closed.
State regulators seized La Jolla-based Imperial Capital Bank, which operated 9 branches. The FDIC said Los Angeles-based City National Bank will acquire all of the failed bank's $2.8 billion deposits and will buy the bulk of its $4 billion in assets.
The OTS shuttered Santa Monica-based First Federal Bank of California. OneWest bank of Pasadena has agreed to assume the failed bank's $4.5 billion in total deposits and to buy the $6.1 billion in total assets.
The 39 branches of First Federal Bank will reopen on Saturday as branches of OneWest Bank. Depositors can access their money by writing checks or using ATM or debit cards. Checks drawn on the bank will continue to be processed. Loan customers should continue to make their payments as usual.
The OTS closed the sole branch of New South Federal Savings bank in Irondale, Ala. The failed bank will reopen Monday under the management of Plano, TX-based Beal Bank.
Meanwhile, the FDIC said it was unable to find another financial institution to take over the operations of Atlanta-based RockBridge Commercial Bank. As a result, the agency said it would mail checks to insured depositors on Monday.
RockBridge had an estimated $2.1 million in uninsured funds. But this amount could change once the FDIC obtains additional information from these customers.
The FDIC currently covers accounts up to $250,000.
Beginning Monday, customers with deposits exceeding $250,000 at the bank may visit the FDIC's Web page "Is My Account Fully Insured?"
An average of 11 banks have failed every month this year. The spike in failures has raised concerns about the FDIC's deposit insurance fund, which has slipped into the red for the first time since 1991.
The fund was $8.2 billion in the hole as of the end of September. But that includes $21.7 billion the agency has earmarked for future bank failures.
Friday's closures will cost the FDIC an estimated $1.7 billion.
This year's tally of bank failures is the highest number since 1992, when 181 banks failed. But the total is far from 1989's record high of 534 closures which took place during the savings and loan crisis, when the insurance fund also carried a negative balance.