Oil rises above $76 on inventory drop
NEW YORK (CNNMoney.com) -- Oil climbed above $76 a barrel on Wednesday after a government report showed that crude supplies fell more than twice as much as analysts predicted, for the second week in a row.
Crude oil for February delivery jumped $2.27 to settle at $76.67 a barrel. On Tuesday, oil rose to settle at $74.40.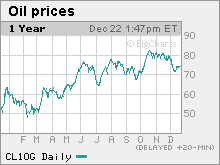 Wednesday's inventory report "showed extraordinary draw-downs of crude oil, and that speaks to growing demand and a recovering economy," said Mike Fitzpatrick, vice president of energy at MF Global.
Inventory report. The Energy Information Administration reported a drop of 4.9 million barrels in crude stocks, more than double the 2 million barrel decrease analysts expected, according to a consensus estimate collected by energy information provider Platts.
Gasoline stockpiles fell by 900,000 barrels, the report showed, lower than the 1.3 million barrel rise analysts predicted.
Inventories of distillate fuel, a category that includes heating oil and diesel, decreased by 3.1 million barrels. Analysts estimated a decline of 2.25 million barrels.
Gasoline prices. The national average price for a gallon of regular unleaded gas fell to $2.584, down one tenth of a cent from the previous day's price of $2.585, according to motorist group AAA.
The highest gas prices are in Alaska, where the average is $3.372. Missouri has the cheapest gas with an average of $2.389.