It's pancakes. In a can. It's made $15 million.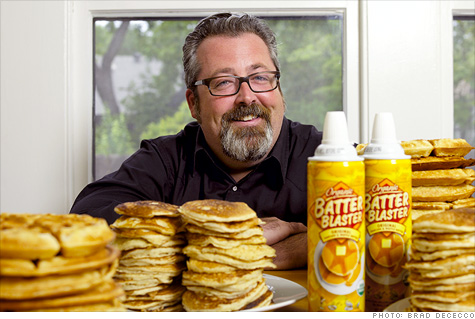 (Fortune Small Business) -- In 2001, Sean O'Connor was a co-owner of Thee Parkside, a San Francisco club that served up punk bands alongside yak burgers and bear-meat chili. When the dot-coms collapsed, he pared down the menu to focus on cheap, creative snacks. During an experiment with whipped cream canisters and funnel cake -- a project that failed miserably -- he stumbled on a better idea: putting pancake mix in pressurized cans for quick and easy breakfasts.
By 2005 O'Connor, now 38, had left the restaurant business and filed patents for Batter Blaster, an organic pancake-and-waffle mix in a pressurized can with a point-and-shoot nozzle.
Through word of mouth, social networking and publicity stunts -- traveling 180,000 miles in an Airstream trailer to visit county fairs; rallying a team to cook 76,382 pancakes in eight hours to set a Guinness World Record -- O'Connor and his 16 employees have gotten Batter Blaster into 13,000 outlets nationwide, including Costco (COST, Fortune 500) and Whole Foods (WFMI, Fortune 500) stores.
"We aren't feeling the recession like everyone else is," he says. "We are one of the few truly innovative products to come out in the egg and dairy set."
In 2008 Batter Blaster's annual revenues hit $15 million. O'Connor expects the total for 2009 to surpass $19.5 million.
"It sells incredibly well. It's a convenience item and great for the elderly, who make single servings, along with parents, single people and campers," says Jeff Mejia, director of perishables for DPI Specialty Foods, which distributes the product to Albertsons, Bristol Farms and Jensen's stores. The product retails for $4.99 a can.
There's no denying the lowbrow reputation of sprayable foods. (Think Easy Cheese and Reddi-wip.) O'Connor argues that what Batter Blaster lacks in cachet, it makes up for in a hassle-free, fun-to-use design that appeals to families.
That sounds about right to chef Manuel Trevino of the newly opened Travertine restaurant in New York City. "I would most likely only use it when cooking for my kids," he says. "You will undoubtedly be sacrificing a little flavor for fun, but utilizing a spray makes it easier to master the art of creative pancake-making, which children tend to love."
O'Connor is banking on kid-friendliness. His plans? More versions of the product that add new flavors, along with brightly colored batters, in the mix.