An American gondolier stays afloat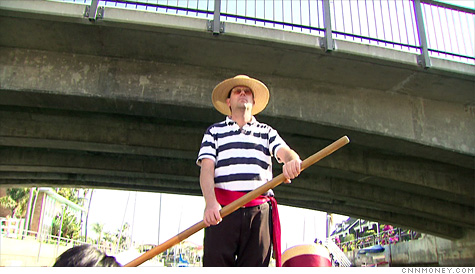 LOS ANGELES (CNNMoney.com) -- Venice's canals aren't the only ones with gondolas. In Southern California, American gondolier Michael O'Toole is steering his fleet through the recession.
O'Toole's specialty romance business sells cruises along the waterways and canals of Naples Island, near Long Beach. This past year has been among the hardest the 27-year-old business has faced.
"We used to be booked up two to three weeks in advance. It changed to last minute reservations," O'Toole says. "All of a sudden, the tour groups weren't as plentiful."
O'Toole had always relied on word-of-mouth advertising to draw customers to his unusual business. Gondolas first sailed the Long Beach canals at the turn of the 20th Century, when real estate marketers used ones created for the Chicago World's Fair to show properties to prospective buyers. Once the land was developed, the gondolas faded away.
While in college, O'Toole discovered that lost historical gem, and for a class project, he created a business plan for Gondola Getaway. He got an A -- and the idea so infatuated him that after graduating, he launched the company.
But as the downturn deepened, the low-key approach was no longer filling boats. "We had to start marketing, with no advertising budget," O'Toole says.
So O'Toole turned to the Internet and began researching what other romance-related businesses -- from horse-drawn carriages to special-occasion limousine tours -- were doing to combat the downturn. He read blogs written by wedding planners and brides, and picked off the best of their ideas.
"We began marketing with local businesses that are similar to our brand," O'Toole says. "There's an Italian coffee shop in Long Beach, Aroma di Roma, that's known for its authenticity with their gelato and pizza. We leave promotional information in their shop, and they have information in our shop."
O'Toole arranged for cross-promotion on the Internet with local hotels, restaurants, tourism vendors, and others, linking his site to as many of their Web sites as he could. He researched upcoming conventions in Long Beach and contacted organizers to propose package deals.
It paid off: Vendors from the Long Beach Boat Show used his gondolas as their entertainment for clients, and bookings from the American Kennel Club's national championship dog show brought in more than $2,000 during one weekend.
"We're going to the Italian festivals, and offering raffle prizes of gondola rides," he says. "They give us a display for free, and we donate the rides so they can make money for their charity. We're creating a sister cityship with the City of Venice through the City of Long Beach."
O'Toole's new outreach efforts all have one thing in common: They're inexpensive. "We're not spending a lot of money, but we're marketing constantly," he says.
While business has been down, O'Toole has not offered discounts. He continues to charge $75 a couple for the first hour, and $20 for each additional person. Before the recession, the cost included an offering of cheeses, salami and bread -- but O'Toole noticed that the food often went uneaten. So now the free food is gone, replaced by an optional food menu for an additional $3 to $5.
His 30 gondoliers, many of whom are college students, have hung in with him. Some have picked up part-time work elsewhere to supplement their shrinking incomes. And O'Toole is back in the trenches himself: If a customer walks in without a reservation and no gondoliers are available, O'Toole dons the striped uniform he keeps in his office and takes a boat out himself.
Some things have had to be sacrificed this year. Every May, O'Toole flies to Venice to head the only U.S. team to race in the Vogalonga, a 30-kilometer regatta, but in 2009, he was unable to find sponsorships. For the first time in years, he didn't race.
Business was down 20% at the end of 2008 and for most of 2009, but O'Toole believes his marketing efforts are working. Reservations have risen steadily, and he says the fourth quarter of 2009 should be back to pre-recession numbers.
"I'm thinking it's not so much that the economy's gotten better," O'Toole says, "but I'm marketing better, and will be stronger forevermore."