Monster business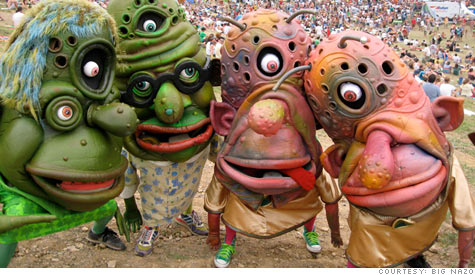 (CNNMoney.com) -- Amid downtown Providence's staid collection of office buildings is an eye-catchingly different storefront. Space aliens, giant trolls and jewel-toned monsters fill the windows of the building labeled "Big Nazo Lab" -- and this New Year's Eve, they'll be coming out to play.
"I think it's great for people to have a sense of mystery," Erminio Pinque says of the passers-by who pop their heads in to ask about the creature collection. "It paves the way to explain what goes on here. It's a little complicated."
Pinque is the artistic director and founder of Big Nazo, a performance group that has turned its surreal art and puppetry into a thriving business. New Year's Eve kicks off one of Big Nazo's busiest seasons ever: Next month, the troop will take dozens of its creatures to Vancouver for a series of appearances at the Winter Olympics.
But Providence residents can get a sneak peek at Big Nazo's performances by simply stepping into the Fulton Street lab. It's part studio, part interactive art project. Inside, Big Nazo's artists construct masks, puppets and props for their theatre productions and television commercials. As one designer glues eyeball parts together, another group might be holding rehearsals and running an impromptu show. The Nazo Lab is also home to the Rhode Island School of Design's "Creature Creation" class. Its next session kicks off in January.
"Often we wave people in who look a little shy," Pinque says. "They're free to observe us working -- even try things on. People sometimes dress up and take cell phone photos."
An antic business
While working with a puppetry group years ago, Pinque had the idea that launched Big Nazo: Keep the puppet, lose the stage and interact with the audience. Twenty years later, he's now the master of a street troupe of dancing monsters, animal hybrids, rocking robots and mutant musicians. Pinque says the creative community in Providence played a big role in Nazo's development.
"They are such incredible performers -- the way they interact with the crowd and improvise in any given situation is absolutely priceless," says Stacy Horne, events director of Noise Pop Industries. She's a regular client, hiring Big Nazo to perform at the Treasure Island Music Festival in San Francisco. "We change all other front-of-house components each year except for Big Nazo and the Ferris wheel."
The creature business has been surprisingly recession-proof. "People who are self-employed or work in marketplaces without conventional profit grids are used to the idea that things fluctuate," Pinque says.
Big Nazo got its name from a phrase Pinque picked up performing on the streets of Italy early in his career. The characters he was building at the time all had very large, exaggerated noses -- "naso" in Italian. Ever since then, he's been willing to follow his nose. And right now, it's telling him to invest. A true number-cruncher would have never green-lighted the amount of building they've been doing recently, Pinque says. But shortly after spending money to double his cast of characters, the leap of faith paid off with a call from the Winter Olympics planners.
Big Nazo ranks "mask-and-shoulders" above other performance troops, says Stephanie Monseu, who recently booked the crew for the "Walkway over the Hudson" grand opening.
"Their professionalism, high production value, and extremely high level of artistry stood out," she says. "I was confident that they'd fit into the atmosphere of this more family-friendly event."
That goes right to the heart of Big Nazo's ethos.
"A lot of our stuff is not pretty, safe, attractive or cute, but yet we work with kids," Pinque says. "We've learned to over-compensate our personalities to make sure they're likeable -- to work against the visual. It's very significant to have an experience with a child or adult who at first is afraid of you, suspicious, and thinks you're 'ugly' -- then, minutes later, find you kind and funny. That message can spread."