Surprise! The Fed says don't blame the Fed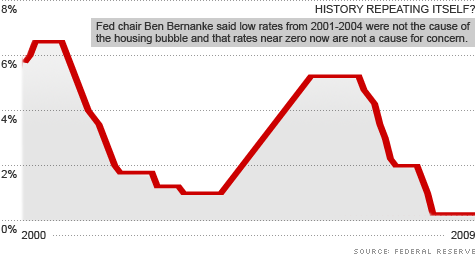 NEW YORK (CNNMoney.com) -- The Pope is considered to be infallible. Apparently, those who hold the title of Federal Reserve chairman want to be viewed that way as well.
Fed chair Ben Bernanke defends the decision by his predecessor Alan Greenspan to keep interest rates super low following the 2001 recession, saying that the Fed's monetary policies were not the cause of the housing bubble.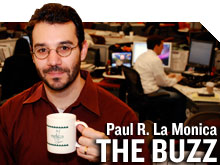 In a speech Sunday, Bernanke said that it was the availability of exotic loans that allowed people who really couldn't afford a home to get a mortgage that was the culprit, not the fact that rates were at then-historic lows.
By absolving the Maestro of any blame for the credit binge that led to the Great Recession, Bernanke also appears to be sending a strong message to Fed critics and the financial markets as well.
Rates, which have been stuck near zero since December 2008, are likely to stay there for some time -- and Bernanke may be suggesting that this won't lead to a repeat of last decade's sins.
But what if Bernanke is wrong? What if rates stay this low for too long and do lead to another bubble? It's a bit disingenuous for Bernanke to dismiss the Fed's role in helping to pump up the real estate market.
Yes, when the Fed started to aggressively cut rates in 2001, it was trying to get the economy back on track after the dot.com meltdown and the 9/11 attacks.
The rate cuts continued through 2002 and 2003 as the "jobless recovery" and crisis in confidence caused by numerous accounting scandals weighed on growth. So it made sense for the Fed to do what it did -- but to say that there wasn't a consequence is flat-out wrong.
Barry Ritholtz, CEO and director of equity research at research firm Fusion IQ in New York, said the easy money environment fostered by the Fed did in fact lead to a surge in home lending and a big spike in housing prices.
Ritholtz said that's because bond fund managers and other investing pros were willing to lap up securities backed by mortgages -- particularly subprime loans -- since the yields on these securities were much higher than government bonds following the series of Fed rate cuts.
"When rates went down to 1%, guess what happened to safe Treasurys? Their yields plummeted and there was a mad scramble by fund managers to higher yields," Ritholtz said. "There never would have been such an attraction to mortgage-backed securities if interest rates weren't so low."
Mike O'Rourke, chief market strategist with BTIG, an institutional brokerage firm in New York, also said Bernanke is wrong to try to divorce easy monetary policy from what happened in the mortgage markets as a result of low rates.
"Bernanke's splitting hairs and making an academic argument. The Fed kept rates low for very long, and they were very deliberate and predictable with their tightening. The Fed stretched it out over a year and half," he said. "That fueled an environment for bad mortgages to be originated and sold into all these highly leveraged securities."
Get ready for another bubble?
Nonetheless, Ritholtz said he's not too worried that near-zero rates will lead to another housing bubble. But another bubble could be brewing -- possibly in currencies not named the dollar or commodities.
"We didn't have another tech bubble after 2000. We had a different bubble," he said. "What worries me is the next potential bubble that nobody is anticipating. That could bring a whole new set of problems and challenges."
Matt Lloyd, chief investment strategist at AAM Inc., an investment advisory firm based in Monument, Colo., agreed that there could be more bubbles down the road. He used what he described as a Yogi Berra-ism to sum that up: History repeats itself but it's slightly different every time.
But Lloyd said Bernanke is willing to tolerate this because the Fed is still more worried about another big downturn as opposed to inflation down the road. As such, he thinks the Fed will begin raising rates later this year but the increases will be small and gradual.
"It's going to be a delicate balance. With the amount of liquidity out there you could have some asset booms in the next three, four or five years," Lloyd said. "The Fed knows this. But it doesn't want to take the punchbowl away and cause a double-dip recession."
To be fair, the Fed is not the only entity that deserves blame for the real estate bubble. Greedy banks and investors, overzealous consumers and a toothless regulatory environment (Bernanke was right about that at least) all contributed to the eventual implosion in both housing prices and the banking system.
And even though I know that there is a vocal group of Fed haters (paging Ron Paul and his supporters!) who believe the central bank should be abolished, I do think that the Fed has done a lot to help prevent the economy from spiraling into a depression.
Still, Bernanke's defense of the Fed is a bit curious in its timing. His term is due to expire at the end of the month and he was grilled in a confirmation hearing before the Senate last month.
While it would be a major shock if Bernanke did not get approved for a second go-around as Fed chair, considering that the Senate Banking Committee voted 16 to 7 to confirm him, it's clear that he still has something to prove to his detractors.
"Everybody tends to rally around their own institution and Bernanke is trying to protect the Fed from accusations of nonfeasance and incompetence," Ritholtz said.
But by trying to pretend that the Fed isn't partly to blame for the housing bubble, Bernanke isn't doing himself any favors.