Auto industry looks to get back in gear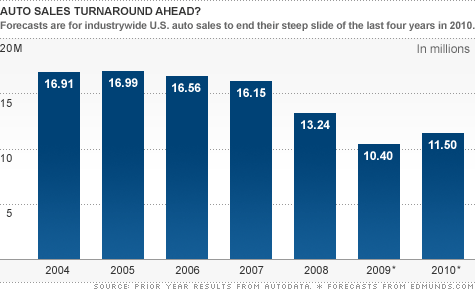 NEW YORK (CNNMoney.com) -- The auto industry couldn't be happier to have 2009 in its rearview mirror at long last.
Industrywide U.S. sales are likely to be down more than 20%. The final figures for the year will be reported Tuesday. The combination of tight credit and soaring unemployment sent sales to their lowest levels since World War II when adjusted for population.
Final sales are likely to be in the neighborhood of 10.4 million vehicles, a far cry from the record 17.4 million sales in 2000. And while nobody expects sales to soar to those heights anytime soon, there are indications that 2010 could be a better year for the beleaguered industry.
Most forecasts are for sales to improve modestly this year, even if the U.S. economy doesn't completely get back in gear. Sales trackers Edmunds.com and J.D. Power & Associates are both predicting sales of 11.5 million vehicles.
But one auto industry executive said that while he is hopeful about a turnaround, there are many concerns.
"We believe the worst in terms of the economy and auto sales is behind us," said George Pipas, director of sales analysis at Ford Motor. "But it's still a fragile situation and in a fragile situation like this, sales can turn on a dime."
If employers start to add jobs again in 2010 after two years of job cuts and the housing market rebounds, that should lift auto sales. But Pipas said even that might not be enough to bring buyers back to the showrooms.
"You can put all the variables into your economic models, but how consumers react during this coming year is very hard to predict," he said.
Pent up demand
Still, industry experts point to significant pent up demand, coupled with continual improvement in the availability of credit, as reasons for their stronger forecasts.
Gary Dilts, senior vice president of global automotive for J.D. Power, points out that the number of vehicles sold in 2009 will be more than 2 million lower than the number of cars scrapped during the year. That rare drop in the number of cars on the road is likely to be repeated again in 2010, even if sales hit the 11.5 million sales target.
"You can only do that so long before consumers will find ways to buy cars," Dilts said.
Traffic at car buying Web sites such as AutoTrader.com and Edmunds.com has also stayed strong, a sign that people are still interested in buying if they can find the right deal.
Michelle Krebs, a senior analyst with Edmunds.com, said she thinks there's a good chance that this will translate into a better-than-expected sales surge in 2010. "People have been postponing purchases. The pent up demand is there. The potential for better sales is there," she said.
But with the price of oil back to $80 a gallon, some experts are worried that another gas price shock could follow.
The average price of gas is currently $2.66 nationwide, according to AAA. That's still well below the all-time high of $4.11 but prices are up more than a dollar a gallon in the past year. Manufacturers with a lineup of fuel-efficient cars would do better if gas goes above $3.50 a gallon again, but all sales would be hurt.
"Another oil shock would be devastating to the industry," said Dilts. "It wasn't just the recession that killed sales. It was high gas [prices] in 2008 that knocked the hat right off the industry."
There are also worries that a return of any problems in the financial and credit markets could knock the legs out from a recovery.
"We need liquidity to continue to improve so that the ability of people to buy cars will improve," said Gary Silberg, leader for automotive practice at accounting firm KPMG.
Profits could be near
But even if there is a slight rebound in sales, there are questions about how quickly many struggling automakers could be profitable again.
Toyota Motor (TM) and Ford (F, Fortune 500) both returned to profitability in the third quarter of 2009. GM has said industrywide sales in the U.S. would need to be around 10 million vehicles this year in order for its North American auto operations to break even.
It's telling though that despite a much lower cost base for the major automakers and expectations that sales will improve, none of the domestic automakers are predicting profits in 2010 just yet.
Ford is forecasting healthy profits by 2011. GM has yet to give guidance for when it'll be profitable again.
Part of the problem is that while the battered U.S. market is closer to turning around, sales in Europe are not. Many European countries, such as Germany, had much larger Cash for Clunkers programs to spur sales in 2009. That is likely to depress 2010 sales there much more than in the United States.
And while sales in China continue to boom -- China surpassed the U.S. as the world's largest market for autos in 2009 -- most of the vehicles sold in China are smaller, cheaper vehicles with thin profit margins.