3-D TV coming soon to your living room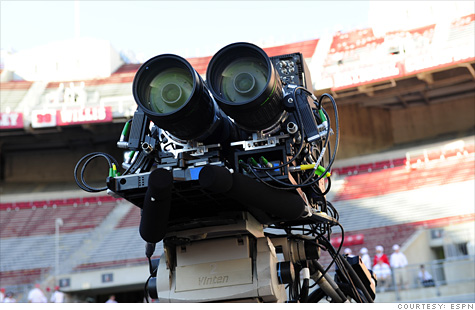 NEW YORK (CNNMoney.com) -- Brace yourself! 3-D entertainment is coming to a television set near you.
Both ESPN and Discovery Communications announced Tuesday that they will launch 3-D TV networks. ESPN will start airing its 3-D sports network in June, while Discovery Communications did not specify when it would begin airing 3-D content.
3-D entertainment has been gaining in popularity, most notably with the release of the 3-D film "Avatar," showing in theaters now.
ESPN's new network, to be named ESPN 3D, will air at least 85 live sporting events in its first year. The first 3-D event will be the FIFA World Cup between South Africa and Mexico on June 11.
"ESPN's commitment to 3-D is a win for fans and our business partners," the sports network said in a statement. "ESPN 3D marries great content with new technology to enhance the fan's viewing experience and puts ESPN at the forefront of the next big advance for TV viewing."
The sports network said it has had "productive discussions" with cable and satellite affiliates, and it believes many will sign on.
Demand for more realistic sports programming was one of the main motivators for affiliates to offer high definition broadcasting and for consumers to buy HD TV sets. Likewise, ESPN believes that there is the same type of strong demand for 3-D sports entertainment.
To view the 3-D channels, customers will have to buy a special 3D-HDTV set, which are currently available from most manufacturers. Discovery said it hopes that its network drives consumer adoption of 3-D televisions.
Although ESPN 3D will only air during specific live events, Discovery's new channel will be the nation's first 24/7 3-D network.
Discovery Communications, which owns the Discovery Channel and TLC among other cable channels, partnered with Sony and IMAX to develop the new 3-D station.
"By partnering with Sony and IMAX on 3-D, Discovery will lead the way in revolutionizing the next-generation home viewing experience in the U.S. and around the world," said Discovery Communications CEO David Zaslav in a statement.
The 3-D Discovery network will show natural history, space, science and technology programming as well as movies. Discovery will provide the content, Sony will advertise and license 3-D films, and IMAX will license movies and the technology for the venture.