Apple's App Store tops 3 billion downloads
NEW YORK (CNNMoney.com) -- Apple announced Tuesday that its App Store has surpassed 3 billion downloads from iPhone and iPod touch users.
"Three billion applications downloaded in less than 18 months -- this is like nothing we've ever seen before," said Steve Jobs, Apple's chief executive, in a statement. "The revolutionary App Store offers iPhone and iPod touch users an experience unlike anything else available on other mobile devices, and we see no signs of the competition catching up anytime soon."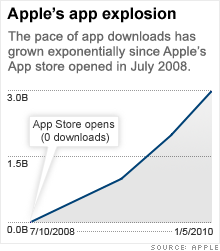 The pace of downloads has grown exponentially. Apple announced on April 23 that its store surpassed 1 billion downloads, and it reached 2 billion downloads on Sept. 28.
Though most App Store downloads are associated with the iPhone, the number of app downloads from iPod touch users have been growing recently. Late last month, App Store downloads on the iPod touch exceeded the iPhone's for the first time, eclipsing iPhone downloads by 172%, according to a study by mobile analysis firm Flurry Analytics.
Apple's (AAPL, Fortune 500) App Store has more than 100,000 apps for download, far surpassing other competitors' stores. Google (GOOG, Fortune 500) said late last month that there are more than 16,000 apps available for Android phones at the Google App Store, and there are only a few thousand available for Research In Motion's (RIMM) BlackBerrys, Microsoft's (MSFT, Fortune 500) Windows Mobile devices and Palm's (PALM) WebOS phones.
On Christmas Day, when many users cash in gift cards, Apple's App Store download volume was 13 times greater than downloads from all Android phones, according to the Flurry Analytics study.