It's cold down South, but your OJ is safe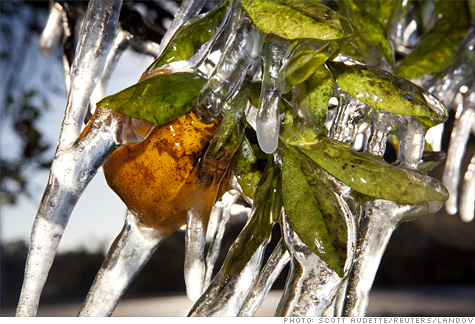 NEW YORK (CNNMoney.com) -- Despite the cold spell threatening orange crops in Florida, the cost of your morning glass of O.J. isn't likely to shoot through the roof -- yet.
The cold weather currently moving across much of Florida, the nation's largest orange producer, would have to wipe out at least 20% of the crop for retail prices to be affected, said Bob Norberg, deputy executive director at the Florida Department of Citrus. So far, crop damage has been very minimal.
But orange growers are still holding their breath, and crews will be out throughout the night spraying trees with water to prevent the fruit from getting any colder than freezing.
If temperatures dip below 28 degrees for more than four hours, crop damage may occur. However, at the cusp of 28 degrees is when the fruit develops extra sweetness.
"We'll be pulling all-nighters until the cold snap passes," said Andrew Meadows, a spokesman for Florida Citrus Mutual.
Pricing contracts: About 70% of the fruit is under fixed contracts, which means that juice makers lock in prices for oranges harvested within certain time frames. So, what's happening to crops right now might not be reflected in prices until the next contract. This structure protects juice processors -- and customers -- from price swings happening through the season, said Norberg.
The contracts usually include provisions for growers to raise prices, but they are only implemented if a "major crop disaster" occurs.
And right now the cold weather in Florida is not expected to be disastrous. "Certainly if there's any significant reduction in citrus production, it will be reflected in prices, but I don't think that's expected," said Terence McElroy, a spokesman at the Florida Department of Agriculture. "We're not expecting anything catastrophic at this point."
In fact, Minute Maid, one of the biggest buyers of Florida citrus, hasn't touched its prices yet.
"We're watching the situation, and we'll make a decision at the appropriate time," said Ray Crockett, a spokesman for Coca-Cola, which owns Minute Maid. He declined to detail the company's contract with growers.
Cold front moving in: Sentiment could change, however, in the upcoming week. Average low temperatures across the Florida citrus groves are predicted to be between 24 and 28 degrees Fahrenheit on Sunday and between 26 and 30 degrees on Monday, said Dale Mohler, a senior meteorologist at Accuweather.com. In the coldest spots, temperatures could dip below 28 degrees for three to four hours, he said.
This would be the coldest outbreak since December 1989, and could mean damage of 5% to 10% of the total crop. Mohler, however, classifies the expected damage as "light to moderate."
Norberg said that many people in the orange-growing industry have become weary of forecasts because they often change so much day to day. But as of now, "the forecasted temperatures are not low enough to do significant damage that would raise retail prices."
Smaller crop: Later in the year customers could see a surge in orange juice prices because of a much smaller crop.
Dry growing conditions in Florida during the spring and summer, when oranges start to develop, could result in what is estimated to be a 17% smaller crop, according to a December report from the Department of Agriculture.
"We're going to see prices rise, and the growers are going to have to pass this along to retailers, so we could see orange juice up to the $5 to $6 range," said Stewart Mann, managing director of LaSalle Futures Group.
Orange juice futures have climbed nearly 150% this year, but consumers won't start seeing higher prices until the end of the first quarter of 2010, Mann said.