Book review: Stewart Brand's green manifesto
NEW YORK (Fortune) -- Four decades ago Stewart Brand opened The Whole Earth Catalog with a rollicking mission statement: "We are as gods, and might as well get good at it."
It was an apt mantra for the eco-friendly, do-it-yourself lifestyle guide, which was so clever it won a National Book Award. Now a futurist, author, and business consultant, Brand opens his latest book, Whole Earth Discipline: An Ecopragmatist Manifesto, with an urgent update of his youthful declaration: "We are as gods and HAVE to get good at it."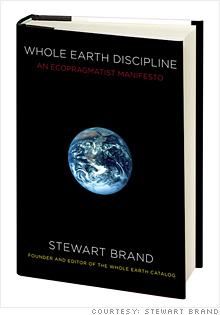 The cause for urgency is climate change. Until 2003, Brand writes, "I had only the usual concerns" about the seemingly "dire but distant" issue. Then he saw studies of Greenland ice cores revealing that, in the past, the climate has tipped into a radically different state, such as an ice age, in less than a decade.
Runaway positive feedback is the likely cause. Here's an example: As human greenhouse emissions mount, global warming causes mirror-like polar ice to give way to dark ocean. That makes the Arctic absorb more solar heat, which melts more ice, leading to yet more heat absorption. This and other positive feedbacks are likely driving the ominously fast melting of Arctic ice, which was half gone by the summer of 2007, three to four decades earlier than predicted -- the great melt is unfolding with tipping-point-like speed.
Channeling climate scientists, Brand predicts that fresh water and other resources will be in desperately short supply in many areas of a climate-changed world. A global state of constant war over dwindling resources might well ensue, killing billions.
Too dire? Consider: Tibetan Plateau glaciers, which feed shared rivers of China, India, Pakistan, and other Asian countries, are now melting away to expose a drought-prone tinderbox filled with vying nuclear powers, as well as "feral zones" controlled by Al Qaeda and its allies. If increasingly plausible worst-case scenarios play out, Brand tersely observes, "we're ants on a burning log."
His scary analysis is the setup for a hopeful, though controversial, message: All may still be well if we get really good at using tools many Greens love to hate. To wit: urbanization (which enables efficiencies of scale and lower per-capita use of resources), nuclear power (to displace coal's heavy greenhouse emissions), biotech (to engender, among other things, biofuel-producing microbes and drought-resistant crops), and geoengineering (such as lofting megatons of smoky particulates into the stratosphere to block sunlight and cool the climate).
Brand's case for parting ways with environmentalism's old guard rests largely on surprising developments that, he freely acknowledges, have shown some of his former views were wrong. Who knew that the rise of developing-world megacities, with their sprawling slums, would defuse the population bomb? (In rural villages, Brand notes, "every additional child is an asset, but in the slum, every additional child is a liability, so the newly liberated women in town focus on education and opportunity -- on fewer, higher-quality children.")
That the expected number of excess cancers from the Chernobyl nuclear disaster would now be less than 1% of initial projections, and that the Chernobyl area would be a uniquely biodiverse wildlife sanctuary teeming with rare species? That the widespread cultivation of bioengineered corn, once thought to kill monarch butterflies, appears to be greatly benefiting them?
Not surprisingly, Brand's iconoclasm has heated up the blogosphere, and some deep-dyed Greens apparently feel the trailblazer whose whole-earth visions seeded the first Earth Day in 1970 is doing a Lieberman.
Wrong.
Brand has always been an Obama-like, big-picture pragmatist -- his famous catalog's supreme virtue was its usefulness. And while some of his positions cry out for debate -- I'm not sure I'd trust a real god to attempt geoengineering, much less us fumbling, self-taught ones -- no one has brought more breadth, clarity, and cogency to bear on the biggest issue of our time. At 70, environmentalism's pithiest polemicist has outdone himself, giving us one of the most important green tracts since Silent Spring. Read it.