Uh-oh: The return of $3 gas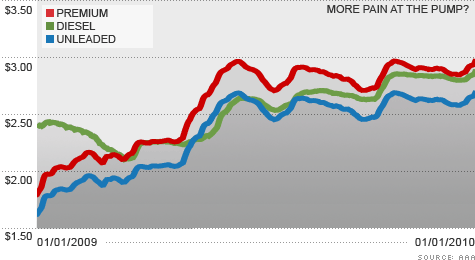 NEW YORK (CNNMoney.com) -- Baby, it's cold outside! And that's bad news for anybody who's been to the gas station lately.
The frigid temperatures across much of the United States so far this year are one reason why energy prices have recently spiked. Crude oil is now hovering around $82.50 a barrel, barely below a 14-month high.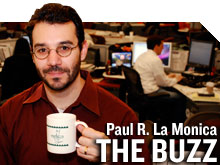 Even more troublesome for consumers, the average price of an unleaded gallon of gasoline nationwide is now nearly $2.71 a gallon, according to AAA. Gas prices have shot up 7 cents in just the past week and are now higher than they were during any point in 2009.
Natural gas prices have also soared as the cold spell has gripped not just the United States but much of the entire Northern Hemisphere. That could be a drag on consumers' pocketbooks since it could raise the cost to heat their homes.
Prices are currently around $6 per million British thermal units. That's an increase of 7% so far this year and more than double what prices were last summer -- a time when natural gas was at a seven-year low.
Will gas and oil prices keep climbing? And if so, how much higher do they need to go before they possibly put a dent in what appears to be a burgeoning, yet still fragile, economic recovery?
Darin Newsom, senior analyst with Telvent DTN, a financial markets research firm based in Omaha, Neb., said it looks like there is momentum in the commodity markets. That should lead to higher oil and gas prices.
"Gas is going to continue go higher because the commodity markets in general seem to be on the run right now," he said, adding that oil could approach $90 before cooling off and that gas might head toward $3 a gallon as a result.
That could be a problem for consumers. Some economists think that $3 a gallon for gasoline could lead to a noticeable change in consumer spending behavior.
What's more, prices have already surpassed that level in California, as well as Alaska and Hawaii. And the average nationwide price of premium-grade gas is only a hair below $3, with premium costing more than $3 a gallon in 17 states and Washington, D.C.
Of course, the fact that energy prices are on the rise is partly good news. It's not all about cold weather creating supply and demand disruptions. It's not a coincidence that gas prices started to rise last year just as there were more signs that the worst was over for the global financial markets and economy.
"Oil prices will go up over 2010," said Chris Probyn, chief economist with State Street Global Advisors in Boston. "We may get short-term relief once the cold spell is over, but energy prices will be higher than they were at the end of 2009."
But it also goes without saying that further spikes in gas prices would not be welcome news for consumers and the scores of companies that depend on consumer spending.
If consumers decide to cut back on discretionary spending because of rising energy costs, that could mean the apparent recovery for beaten-down sectors such as autos and retailing may hit a snag.
Several top retailers, such as Target (TGT, Fortune 500), Costco (COST, Fortune 500) and Gap Inc. (GPS, Fortune 500) posted increases in same-store sales in December while Ford (F, Fortune 500) and Toyota (TM) both reported solid jumps in vehicle sales last month.
"The consumer doesn't need any additional burdens. They are still dealing with the fallout of the housing bust and double-digit unemployment. Rising gas prices could be another straw on an already strained back," said Sean Snaith, director of the Institute for Economic Competitiveness at the University of Central Florida in Orlando.
Still, Snaith said consumer spending might not fall dramatically if gas prices simply topped $3 nationwide and didn't rise much higher. Considering that $3 gas would still be 34% below the all-time high price set in July 2008, Snaith thinks that $4 would be a true tipping point for consumers.
Probyn also thinks that gas prices would have to head much higher before they had a major impact on spending.
"The effect isn't big enough yet to derail a recovery, but it is obviously a drain on purchasing power if you have to pay more for gas," he said.
Nonetheless, with consumers only recently beginning to act as if they are no longer worried that another depression is lurking around the corner, anything that could hit them in the wallet would likely lead to some pullback in spending.
"The economy is healing but the question is how quickly. It looks like a solid but unspectacular recovery," Probyn said.