7 million lost jobs: Gone forever?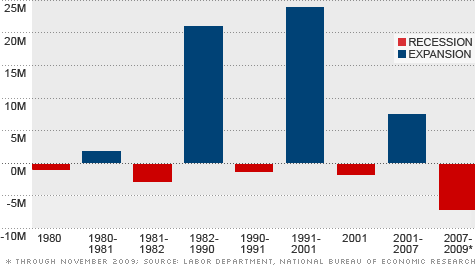 NEW YORK (CNNMoney.com) -- A two-year string of job losses appears to be near an end, if it hasn't ended already.
When the government releases its jobs report for December on Friday morning, some believe it will show an increase in hiring. That would be the first rise in payrolls in two years, although the consensus of economists surveyed by Briefing.com is for another loss of 35,000 jobs.
Most economists don't expect the employment picture to significantly improve anytime this year -- or over the next few years for that matter.
The unemployment rate, which stood at 10% in November, is expected to stay uncomfortably high for the foreseeable future. Some experts even suggest that the labor market won't be able to fully recover from the 7.2 million jobs lost since the start of 2008 before another recession and round of job losses.
This probably won't be a jobless recovery, like the 21-month period that followed the 2001 recession during which an additional 1.1 million jobs were lost. Most economists are looking for employers to start adding to U.S. payrolls early this year.
The first step of climbing out of the job hole is to stop digging. So a positive payroll number would be significant. But the hole the economy fell into during the Great Recession is so deep, the return of hiring won't do much to significantly fix the weak job market.
"The problem is recovery doesn't mean recovered," said Lakshman Achuthan, managing director of Economic Cycle Research Institute. "We need a long recovery to get back 7 million jobs."
Achuthan believes even if there is decent growth this year, there will be slow growth over the course of the expansion. That means it could take as long as 10 years to recover all the lost jobs -- and that assumes that there isn't another recession in that time frame. Achuthan believes another recession later this decade is likely.
Unemployment heading up. The unemployment rate is forecast to be unchanged for December. But most economists expect it to rise during the course of 2010, even as employers start adding jobs.
Part of that is because the economy needs a gain of more than 100,000 jobs a month just to keep pace with population growth.
The other part of the problem is that there is a large pool of 6 million out-of-work adults who have become discouraged and stopped looking for work and are therefore not counted as unemployed. As employers start hiring again, many of those will flood back into the labor force .That will drive up the unemployment rate.
Gad Lavanon, associate director of macroeconomic research for the Conference Board said he is looking for unemployment at or above 10% all the way through 2010. He doesn't expect unemployment to return to pre-recession levels of under 5% anytime in the next six years.
"Our forecast is for a very mild jobs recovery probably throughout 2010," he said. He said low consumer confidence and tight credit will keep consumer spending in check, which in turn will stop employers from adding staff in significant numbers.
"If you look at previous expansions, consumer confidence was at a much higher level than it is now at this point in the cycle," he said.
At best, years to recover lost jobs. Even most economists who believe the economy will eventually recoup all the lost jobs say it will take at least several years to get back to pre-recession employment levels.
A survey of top economists in November by the National Association of Business Economics found 60% don't expect payrolls to return to pre-recession levels until 2012, and another 35% say it will take even longer than that.
Mark Zandi, chief economist of Moody's Economy.com, expects that the economy could be adding more than 200,000 jobs a month by March or April, helped by a boost caused by the government hiring census takers.
And while those jobs will be only temporary, Zandi is hoping Congress passes additional stimulus measures early this year that will encourage private sector employers to pick up their hiring.
"Hiring is going to be slow to get going, but once it gets going, I think we'll see much better growth than many people are expecting," he said.
Still, Zandi thinks unemployment will peak at 10.8% late this year before gradually starting to decline -- and that it will still be nearly 7% at the end of 2012.
Even bullish economists are not predicting an explosive job recovery. Brian Wesbury of First Trust Advisors argued that pent-up demand for cars and new homes, coupled with depleted inventories and tight staffs, will drive unemployment down to 8.5% by the end of this year.
Wesbury added that while the 7 million lost jobs could be recovered as quickly as three years, that will not be enough to make up for population growth since the recession started in late 2007. So the unemployment rate may still be in the 7% to 8% range, he estimates.
And while the Obama administration argues for more government spending to spur job growth, Wesbury worries that all the spending in response to the economic crisis will prevent a full jobs recovery. He thinks the increase in spending will result on a bigger tax burden on businesses and consumers that will slow economic growth.
"Unless there is a huge shift in government policy to cutting spending, we will not get back to 5% unemployment anytime in the foreseeable future," he said.