Dodge brings a Detonator to Detroit - seriously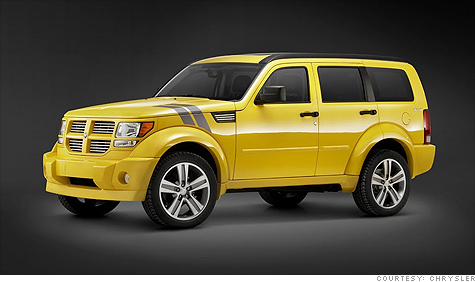 NEW YORK (CNNMoney.com) -- If you're a struggling carmaker looking to make a splash and create controversy, unveiling a new vehicle called "the Detonator" at the Detroit Auto Show may sound like a good idea. If you do it two weeks after an attempted terror attack aimed at the very city where you're doing the unveiling, you may think twice.
Or maybe not.
On Thursday Chrysler unveiled its latest offering: The Dodge Nitro Detonator.
But as tone-deaf as that may seem with the nation still in the grip of terrorism fear, the controversial name is at least guaranteed to get attention. And Chrysler, with its aging product line, seems desperate for attention.
Chrysler may be pushing the envelope deliberately, suggested Jeremy Anwyl, although it is unclear if Chrysler realized the controversy this name could stir up.
Automakers often exhibit attention-seeking behavior when there's little to point to in the product, he said. Chrysler itself was once known for controversial marketing campaigns like the "Lingerie Bowl."
"There's a proud history of controversy there," he said, "but you can see how they get pushed into that."
Chrysler was not immediately able to comment on whether the name was designed to incite controversy.
Chrysler's Dodge brand has long used aggressive sounding name for its cars, such as Nitro, Caliber and Avenger. Two other new Nitro models are called Heat and Shock.
Not much going on here, actually
There isn't much new in the "new" Dodge Nitro Detonator -- for the most part it's a Dodge Nitro "value package" offering $6,000 in otherwise optional equipment at a low price -- but Chrysler Group is doing what it can to try to boost sales from an aging product line-up, analysts say.
The Nitro Detonator is one of several "refreshed" models Chrysler will unveil at next week's Detroit Auto Show. None offers significant changes or new content, instead featuring mostly the creative use of paints and decals, although several of the car's do have improved interiors and some additional features.
Developing a genuinely new model takes years and Chrysler executives have admitted that there's been little of that taking place at the automaker as it struggled to conserve cash.
Now out of bankruptcy and with a new partner, Italy's Fiat, Chrysler can get back to trying to bring out some new cars and more significant product changes are planned in the coming months. In the meantime, it's trying to generate excitement any way it can.
The new Jeep Wrangler Islander, for example, has bright paint and a Polynesian Tiki-head logo. The Chrysler PT Cruiser Couture edition has a two-tone paint job and matching interior. The Chrysler 300 S8 and S6 have blacked-out grilles and slightly fancier interiors.
These changes could help boost sales a bit, said Stephanie Brinley, an industry analyst AutoPacific.
"It helps you to have a special car compared to what you had last year," she said.
Chrysler is also introducing a new version of the Dodge Journey SUV called the "Hero."
"At least they'll have a Hero on the showroom floor next to the Detonator," said Brinley.