Ford sweeps Detroit Auto Show awards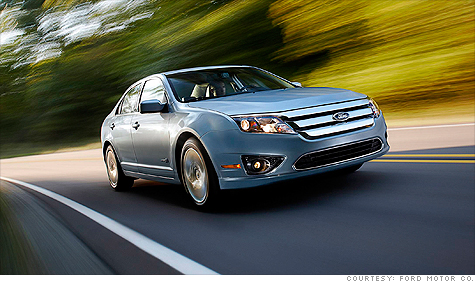 DETROIT (CNNMoney.com) -- After finishing off an enviable year for a domestic automaker, Ford Motor Co. won both the North American Car and Truck of the Year Awards presented Monday at the start of Detroit's North American International Auto Show.
The Ford Fusion Hybrid sedan won Car of the Year and the Ford Transit Connect van won Truck of the Year.
"Winning both of these prestigious awards is confirmation that the ONE Ford plan is working, delivering industry-leading products for our customers," said Mark Fields, president of Ford's Americas division.
One Ford is CEO Alan Mulally's plan to have Ford sell largely the same vehicles in all major global markets rather than the previous method of designing and building entirely different cars for different markets.
Ford was the only domestic automaker to gain market share last year, in large part because it was the only one not to be forced into bankruptcy.
But Ford is also gaining based on improved reliability and fuel economy. Consumer Report recently lauded Ford for acheving "world class" dependability in its cars. Here at the Detroit Auto Show, shortly after this announcement was made, Ford unveiled a new version of its Ford Focus compact car.
Any all-new or substantially redesigned passenger vehicle that entered the North American market in calendar year 2009 is eligible for the award. The vehicles are voted on by a jury of 49 prominent automotive journalists from the United States and Canada.
This is the second year in a row that Ford (F, Fortune 500) has won Truck of the Year. The F-150 pick-up was last year's recipient. The Hyundai Genesis won car of the year last year.
The Fusion Hybrid is a hybrid gas/electric version of Ford's popular Fusion mid-sized sedan. It gets 41 miles per gallon in the city and 36 on the highway and has received kudos from auto critics for being enjoyable to drive as well as for its efficiency.
The Fusion Hybrid was awarded the Motor Trend Car of the Year in November.
The Transit Connect is a small commercial van that Ford has sold in Europe for some time that is only just entering the U.S. market.
The last time one automaker took home both awards was in 2007 when General Motors won with the Saturn Aura sedan and the Chevrolet Silverado pick-up.
GM could have swept the awards again this year. The Buick LaCrosse sedan and Chevrolet Equinox SUV were among the three finalists for each award.
The other finalists were the Volkswagen Golf for Car of the Year and the Subaru Outback, a wagon-like crossover SUV, for Truck of the Year.