Botox to vacations: Where bankers spend their bonuses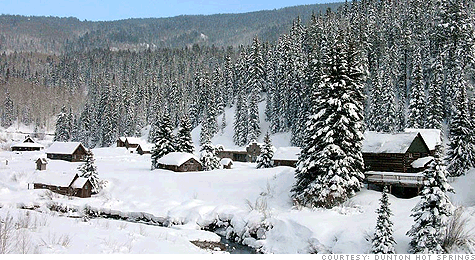 NEW YORK (CNNMoney.com) -- Wall Street bankers are putting together their wish lists for 2010 -- and they're not holding back. After last year's dry spell, bonuses for top-level executives are expected to be sky high. Maybe even records.
At Goldman Sachs and Chase these execs are anticipating bonuses of more than $500,000 a piece, on average, so they'll have plenty to spend.
Here's where they'll be putting the money.
Real Estate: $3 million to $5 million
Buying apartments, second homes and vacation houses tops the list of ways bankers will most likely spend their money.
"Because these are big Wall Street bonuses, people are buying million-dollar-plus properties in the Hamptons, South Florida, skiing communities like Vail and Aspen, and Europe," said Milton Pedraza, CEO of the New York-based research firm the Luxury Institute.
Of course, the first status residence is in Manhattan, and bankers are already starting to check out the goods in advance of their windfall. They're putting up huge down payments, which has helped the $3 million to $5 million sector of the city's housing market to rebound, said Pamela Liebman, CEO of New York-based brokerage firm Corcoran.
At the low end, they can score a three-bedroom, two bath condo right on Central Park or a tony address on Fifth Avenue. The more adventurous poet-at-heart bankers can tap out buying a five-story Queen Anne on the Upper West Side or head to the once-bohemian East Village for two joined buildings that boast an owner's triplex with a stunning terrace -- and income-generating apartments and businesses below.
Of course, many Wall Streeters already own their Manhattan dream homes, so they'll spend their extra money revamping their primary residences, Pedraza said.
A makeover by a well-respected interior decorator can run at least $150,000 -- but usually is more like 30% to 40% of the bonus. Think: Charlie Sheen hiring Daryl Hannah to give his new condo -- and life -- a high-rent makeover in the 1987 flick "Wall Street."
Or, there is always the extravagance of buying a condo on the new Utopia oceanliner. It's the high life on the high seas for just $24 million.
Private school: $35,000 per child
Of course, the kids must have all the advantages that come with such prestigious addresses. So... off to private school they go. And not just any private school -- "Gossip Girl"-worthy institutions of learning.
"If they have kids, that's usually where the money goes," said Diahann Lassus, co-founder of wealth management firm Lassus Wherley.
And these places don't come cheap: The famed Horace Mann School costs more than $34,000 a year per kid -- for kindergarten or senior year. That's more than it costs for a year as a Longhorn at the University of Texas. (Of course, a year at Yale is $47,500 -- just for tuition.)
Plus, there's the not-mandatory-but-still-expected "donation" of an extra 10% to keep you in the school's good graces.
Vacation: $40,000+
On top of essentials such as education, many bankers will use the fresh cash to get away. One banker, who wanted to remain anonymous, said he'll be escaping his crushing work schedule as an associate by spending three weeks in Argentina.
He's not at the level of the uber bonus - yet - but he may someday join the ranks of those jetting off to the newest hot spots. African safaris are becoming de rigueur, and Ashley Isaacs Ganz, founder of Artisans of Leisure Travel, said the Middle East, Spain and Morocco are very popular.
"Our luxury travelers are fascinated by the history in Israel and nearby Turkey and really want to have in-depth cultural experiences," Ganz explained.
A trip like that can cost $40,000 for the whole family -- on a budget. Plus, these travelers have to consider whether to bring the nanny. That costs an extra plane ticket, sure - but you just lodge them in the kids' room. So the overall expense -- considering a half-million-dollar bonus -- isn't exactly crippling.
For something more intimate, Ganz said, people are asking her to arrange on-site babysitters or be booked in hotels that offer kids clubs.
"With more money, they can bring more of the family along and go to more exclusive and smaller, boutique resorts," said Pedraza.
The real high-rollers, however, can't just go to Aspen for a much-needed vacation. They look for the unexploited experience -- like renting a rehabbed ghost town in the Colorado wilderness. And for that they'll pay $17,500 a night for the Dunton Hot Springs.
Or maybe they could charter Richard Branson's yacht for a week.
Toys: $50,000+
Of course, generous bonuses also mean splurging on the fun stuff. "There has never been a better time to negotiate jewelry and watches, and I mean the finest of luxury watches," said Pedraza. "This is the opportunity to go in and negotiate what you want."
But when it comes to picking out these luxury goods, "no one's in the mood to experiment," he said. So, while still spending more than $50,000 on jewelry and watches, the monied are playing it safe by sticking to traditional brands such as Tiffany & Co. and Cartier.
That goes for cars as well, and Pedraza said he predicts many employees will use part of their bonuses to buy autos that hold up in value, such as Ferraris.
Upkeep: $20,000+
But the high-profile package isn't complete without the appearance to match the expensive cars and watches.
That's why up to $20,000 of bonus money will likely fund personal upkeep, said Pedraza. And on Wall Street, this includes Botox -- even for men.
"Botox for men, getting your eyebrows plucked, all these things have become normal," he said. "Many older bankers will rejuvenate themselves with Botox and plastic surgery. They're not Hollywood but they still need to have that fresh, young appearance."