Auto dealers say no thanks to termination appeal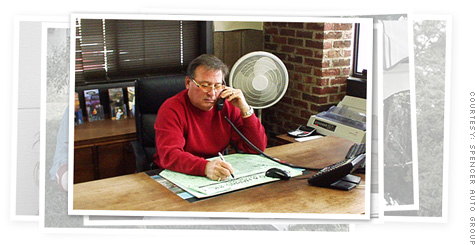 NEW YORK (CNNMoney.com) -- The more than 2,000 auto dealers slated for closure by General Motors and Chrysler are finally getting explanations for and a chance to appeal their shutdown. But for some, the arbitration process about to launch is too little, too late.
"I wouldn't have it back if they gave it to me," said Wayne Williams, the owner of Wayne Williams Motor Company in Crockett, Texas. "I was in business here for 41 years, and they dropped me in the grease."
Williams opened his auto dealership in 1968, and from the start he was a Chrysler, Dodge and Plymouth dealer. His was one of the 789 Chrysler dealerships that got a letter of termination in May as the auto manufacturer worked its way through bankruptcy.
"As far as arbitration, I wouldn't put forth the effort to get that new car franchise back," Williams said. "I am through with them."
He's now in business as a used car dealership and auto repair shop. Williams still has all 10 full-time employees he had before the termination, "but I have been operating at a loss in order to not lay them off."
A hope of resurrection
By the end of this week, Chrysler and GM are slated to send letters to all 2,000 dealerships marked for termination summarizing the criteria by which the franchise was chosen for closure. The dealers then have 10 days -- until a Jan. 25 deadline -- to decide whether or not they want to take their case to an arbitrator.
Going head-to-head with a Detroit giant is costly. A dealer has to pay $1,625 to enter the arbitration process; the manufacturer will have to cough up a matching amount. If the case then moves to a hearing -- meaning the parties don't decide to settle -- the dealer has to pay another $625, half of the $1,250 fee the American Arbitration Association charges to coordinate a case. The entire arbitration process must, by law, be finished by June 14.
President Obama signed the appeal procedure into law last month after a political firestorm erupted over the dealership closures. The shutdown notices, sent in May, offered no explanation of why the franchises chosen were singled out. Irate dealers took their protests to the manufacturers and to Congress, which responded by ordering GM and Chrysler to explain their decisions and field appeals from those who want to fight their termination.
GM's new CEO, Ed Whitacre, expects the arbitration process to restore "hundreds" of dealerships, he said last week. Chrysler declined to offer a similar forecast.
GM has already quietly revived more than 80 of the roughly 1,300 dealerships it initially targeted for extinction. The company has been running its own appeals process, fielding phone calls and e-mails from dealers who want their case reconsidered.
Pete Lopez, the president and CEO of Spencer Auto Group in Spencer, W.V., is among those given a reprieve. Lopez's dealership was a dual Chrysler and General Motors franchise; both companies sent him a termination notice. In June, he traveled to Washington to testify at a Senate hearing about the devastating effect the shutdowns would have on affected businesses.
"When we had that hearing, I met [then-GM CEO] Fritz Henderson, and he admitted they made some quick decisions and they were going to go back and look at things," Lopez said. "They did, and they gave me my dealership back. GM has been nothing but honorable."
He's less impressed with Chrysler. While GM sent dealers notices that their franchises would be discontinued in October 2010, Chrysler ordered immediate terminations, giving owners less than 30 days to wind down their businesses. Lopez doesn't plan to enter arbitration with Chrysler -- he's ready to let the brand go.
A pricey process
"It leaves a bad taste in my mouth that I have to pay another company $1,625," Lopez said of the dealer's initial portion of the arbitration costs. He reached out to a representative at the American Arbitration Association (AAA), who told him that the process offered no guarantees beyond the chance to be in the same room with a Chrysler rep.
Beyond arbitration expenses, dealers will have to pay lawyer fees and other costs, which rise if the process drags on.
"At the end of the day, a dog fight that is hotly contested, everybody spends more," said India Johnson, senior vice president of the AAA.
While both Williams and Lopez have had their fill of working with Chrysler, others are determined to get their dealership back. But no one will see any financial compensation for the losses they've already incurred.
Lopez says he lost $80,000 selling off his inventory, and he was stranded with parts worth $125,000.
Less than a month before Chrysler sent termination letters, the company's president at the time, Jim Press, turned up the heat on dealers, asking them to buy inventory to help keep Chrysler in the black. Williams, in Texas, responded, buying several more cars for his lot. He had 54 in stock when he was got the shut-down notice. Chrysler found dealerships to take over six of them, but Williams liquidated the other 48 vehicles at cut rates. He estimates his losses at $250,000 on the cars and parts.
Williams says he'd be more likely to appeal his case if the arbitration process offered any hope of a payout, but "we are not getting anything from them."
Lopez is skeptical that he would be able to meet Chrysler's demands to get his dealership reinstated, even if he shelled out the cash for an appeal.
"I am in a rural area, I am a small dealer," Lopez said. "Why should I spend $1,625 for them to tell me I need to build a $2 million building? And who knows if they are going to make it?"