GM: We'll sell more in China than the U.S. soon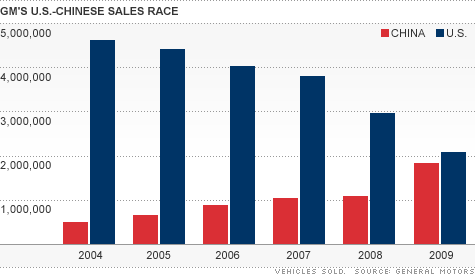 DETROIT (CNNMoney.com) -- Chinese consumers bought more automobiles last year than Americans did for the first time. A top executive at General Motors thinks that it won't be long before it too will sell more cars in China than in its home market.
In fact, Tim Lee, GM's Shanghai-based president of international operations, said at the auto industry's key trade show Tuesday that this day could come sooner rather than later.
"We did very very well," Lee said about the company's sales in China in 2009. "We don't intend to stop with what we've done. We intend to grow."
GM sold about 1.83 million vehicles in China last year and 2.07 million cars and trucks in the U.S. But GM, already the leader in China with 13.4% of the market, is still gaining share. GM's market share was 11.3% in 2008.
By way of comparison, GM has steadily lost market share for several decades in the U.S., falling to 19.9% in 2009.
It would not be unique for GM to sell more cars outside of its home market. Japanese automakers Toyota Motor (TM) and Honda Motor (HMC) both have sold more vehicles in the United States than in Japan for years now. And while U.S. is still GM's single largest market, international sales have topped domestic sales for a number of years.
Even if sales rebound in the U.S. this year, China is still a far more dynamic market for GM to focus on for the long-term. A robust pace of economic growth is creating new drivers and helping to expand the network of roads every day. Then there's the fact that China's population is significantly greater than America's.
Still, for GM to sell more in China than in the United States would be a startling development -- especially considering how far apart sales in the two countries stood only five years ago.
In 2004, GM sold fewer than 500,000 vehicles in China and 4.6 million in the U.S. While Lee wouldn't predict when GM's China sales would beat out sales in the U.S., he said there is a friendly race within the company to see which market winds up on top of GM's total sales.