Iraqi oil may rival Saudi Arabia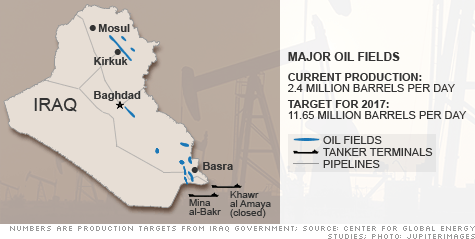 NEW YORK (CNNMoney.com) -- Iraq's ravaged oil industry is on the verge of a major reconstruction and experts now believe that by the decade's end it could rival the world's top oil producers.
But major challenges lie ahead.
Iraq's success depends in large part on a mosaic of international investments.
The oil ministry has awarded contracts to at least a dozen firms from around the globe to develop its oil fields and boost production in the next seven years to over 11 million barrels a day.
That's a five-fold increase, and would put it on par with top producers Russia and fellow OPEC member Saudi Arabia.
"They have the oil in the ground," said James Placke, a senior associate at Cambridge Energy Research Associates who specializes in the Middle East. "It's getting it out that's always been the problem."
The payoff
Iraq sits on at least 115 billion barrels of proven oil reserves, the world's third-largest behind Saudi Arabia and Canada. And analysts believe there could be much more, given that the country's western desert hasn't even been explored.
But Iraq's oil industry has suffered from decades of mismanagement, sanctions and war.
For the last several years, violence and internal squabbling over distributing oil revenues has largely kept international oil firms out of the country. That changed last summer, when BP and China's CNPC won a bid to develop the huge Rumayla oil field near the southern city of Basra.
Initially the Rumayla field was the only one that attracted the attention of international oil firms. Iraq's royalty terms seemed too strict, said Colin Lothian, a senior analyst at the energy consultants Wood Mackenzie.
The Iraqis had hired a top-notch negotiating firm that ensured over 90% of the oil revenues would flow right back to government coffers, one of the highest royalty rates in the world. This is a potentially huge windfall for Iraq, which derives over 75% of its economic output from the relatively small 2.4 million barrels a day of oil it pumps now.
But those terms might be tough for the oil companies.
"They will completely and entirely fund the development of those fields, and get very little profit in return," said Lothian.
Still, faced with declining fields elsewhere and the need to continually find oil in order to support a healthy stock price, the big oil firms have finally agreed to those harsh terms.
This December a dozen other companies bid on at least nine major fields in Iraq.
The firms are not just from Anglo-American-led coalition countries that toppled Saddam Hussein, like Exxon (XOM, Fortune 500), Shell (RDSA) and BP (BP). Russia's Lukoil, China's CNPC, and Malaysia's Petronas, among others, are also in the game.
Whether these tough contract terms will hold is another matter. They may be amended, or more likely, new terms may be negotiated on future contracts.
There is a feeling among analysts that the oil companies came in with low-ball offers just to make sure they establish a history of working in Iraq and aren't shut out of future bids.
Major impact on prices?
Iraq production is expected to remain at around two-and-a-half million barrels day for the next year or two as lawmakers ratify the contracts and security continues to improve.
Barring any unforeseen developments, and contingent on the security situation continuing to improve, foreign oil workers should begin pouring into the country in a couple of years.
They'll have plenty to do. In addition to simply drilling new wells and retrofitting old ones, Iraq needs to repair and expand the major pipeline that runs through the country and expand the shipping facilities south of Basra.
But even amid a global recession there's a shortage of skilled workers and materials needed to engage in a project of this magnitude. Skilled workers are especially rare in Iraq as many left the country over the last couple of decades.
Most experts say the 11 million-plus barrel-a-day target is a long shot. Somewhere between 6 million barrels and 10 million barrels is probably more realistic.
But even that would be a significant jump in global oil supplies over a relatively short period of time, potentially sending prices lower and straining the relationships in OPEC.
"Iraq's Ministry of Oil appears to not have considered how the world market can absorb this extra capacity and the impact it could have on prices in the coming decade," Fadhil Chalabi, executive director of the Center for Global Energy Studies and a former acting secretary general of OPEC, wrote in a recent paper.
Put more bluntly: "Peace in Iraq is probably the biggest threat to OPEC that we've had in decades," said James Williams, an energy economist at the oil and gas consultancy WTRG Economics. "Depending on the state of the economy, you're talking a major impact on prices."
Chalabi noted that it would be expensive for Iraq to build 11 million barrels of production capacity, then shut in nearly half of it, which is what they would have to do under their current OPEC quotas. And it's unlikely the Iraqis would want to flood the market and depress oil prices.
So the Iraqis are either hoping to get a larger share of OPEC output at the expense of another cartel member, or they don't believe their own 11 million barrel per day production target.