Profits and losses and banks. Oh my!
NEW YORK (CNNMoney.com) -- Better-than-expected results from big names JPMorgan Chase and Intel failed to inspire investors last week. Can this week's crop of marquee name companies recharge the rally's engine?
57 companies in the S&P 500 report quarterly results this week, highlighted by the financial sector. Bank of America (BAC, Fortune 500), American Express (AXP, Fortune 500), Goldman Sachs (GS, Fortune 500), Morgan Stanley (MS, Fortune 500), Wells Fargo (WFC, Fortune 500) and a bunch of regional banks are all up at bat this week.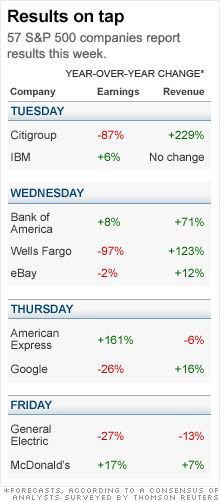 Overall S&P 500 earnings in the fourth quarter are expected to have spiked 186% from a year ago and revenue is expected to have risen 7%. But strip out the impact of the financial sector and earnings growth drops down to 8% and revenue growth falls to 1%.
"The financial sector will benefit from very easy comparisons to last year, but the real question is how the earnings and revenues look outside of financials and what companies say about later in 2010," said John Butters, senior research analyst at earnings tracker Thomson Reuters.
Right now analysts expect first-quarter 2010 earnings to have risen 30% versus the first quarter of 2009, another brutal quarter in which the financial crisis hit a nadir and the Dow and S&P 500 cratered at 12-year lows and the Nasdaq at a six-year low. Second-quarter earnings are expected to have risen 23% versus a less hard-hit second quarter of 2009.
"What's interesting is that the easy comparisons start to phase out in the second quarter, but analysts are still expecting a pick up in earnings."
Banks: The financial sector as a whole is expected to see phenomenal year-over-year growth, due to easy comparisons to an abysmal fourth quarter of 2008, when the group lost $81 billion. Last year was so bad that Thomson Reuters can't even predict the year-over-year change for the sector. Currently, analysts expect the group to have earned $2.9 billion.
That many of the companies that helped exacerbate the financial crisis a year ago are now performing nicely is the source of great consternation to many investors and lawmakers. That won't change in the week ahead.
Goldman Sachs, which reports results Thursday morning, is expected to have earned $5.19 per share after reporting a loss of $4.97 per share a year ago. Morgan Stanley, due to report Wednesday morning, is expected to report a profit of 36 cents per share after reporting a loss of $2.34 last year. (For other forecasts, see the chart).
Other winners and losers: After financials, the next best gainer is expected to be the basic materials sector, which includes chemicals and gold and silver miners.
The sector's profits are expected to have risen 162% from a year ago. However, the sector is smaller and less influential than the financial names.
The third best performer is expected to be consumer discretionary, forecast to see a spike of 118% year over year, largely due to Ford Motor (F, Fortune 500).
On the downside, energy stocks are expected to have fallen 25% from a year ago, followed by the industrial sector, set to lose 13%.
On the docket
Monday: All financial markets are closed for Martin Luther King Jr. Day.
Tuesday: There is no market-moving economic news due out Tuesday.
Wednesday: The December reading on housing starts and building permits is due out in the morning.
Homebuilders are expected to have initiated construction at a 580,000 unit annual rate versus a 574,000 unit annual rate in November, according to a consensus of economists surveyed by Briefing.com.
Building permits, a measure of builder confidence, likely inched up to a 585,000 unit annual rate from a 584,00 unit rate in November.
The Producer Price Index, a measure of wholesale inflation, is expected to have held steady in December after rising 0.1% the previous month. The so-called core PPI, which strips out volatile food and energy prices, is expected to have risen 0.2% after rising 0.5% in November.
Thursday: Reports are due on weekly jobless claims, the December index of leading economic indicators and the Philadelphia Fed index, a regional manufacturing survey. However, no analysts' estimates were available at the time of the writing of the story.
Friday: The House Financial Services Committee is holding a hearing on compensation practices.
Talkback: With the economy in recovery mode and a new year underway, what's your 2010 plan for your portfolio? Will you invest more, less or not at all? Are you willing to take on more risk? E-mail your story to realstories@cnnmoney.com and you could be featured in an upcoming article. For the CNNMoney.com Comment Policy, click here.