JPMorgan Chase books $3.3 billion profit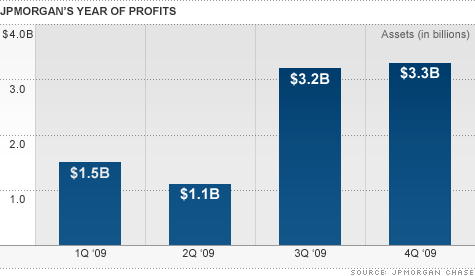 NEW YORK (CNNMoney.com) -- JPMorgan Chase showed it was close to making a full recovery from last year's crisis after the company reported better-than-expected quarterly profits of $3.3 billion Friday.
The New York City-based banking giant also revealed that compensation expenses climbed 18% during the year to $26.9 billion, much of which is expected to doled out in the form of bonuses.
Kicking off the fourth quarter earnings season for the nation's top banks, the company said it turned a tidy profit during the final three months of 2009, earning 74 cents on a per share basis.
That was much better than Wall Street was anticipating. Analysts polled by Thomson Reuters expected the company to report a profit of $2.46 billion for the quarter, or 61 cents a share.
Shares of JPMorgan Chase (JPM, Fortune 500) fell more than 1% in midday trading though as revenue numbers fell short of expectations.
"Though these results showed improvement, we acknowledge that they fell short of both an adequate return on capital and the firm's earnings potential," JPMorgan Chase CEO Jamie Dimon said in a statement.
Still, 2009 proved to be a stellar year for the bank, as profits more than doubled to $11.73 billion, besting consensus estimates.
One of the biggest drivers of its results in the quarter was the company's investment banking business, which earned $1.9 billion, largely helped by robust debt and stock underwriting fees.
"Earnings in the investment bank were better than we were expecting," Collins Stewart analyst William Tanona wrote in a note to clients Friday.
Executives at the company however, were reluctant to declare that the worst was behind them.
Mike Cavanagh, JPMorgan Chase's chief financial officer, noted that there were still areas of weakness within the company's mortgage portfolio. He also reiterated previous forecasts that its credit card division would likely lose $1 billion a quarter during the first half of 2010.
"We need to wait and see how the economy evolves," he said.
It was clear though that JPMorgan was taking no chances, especially with millions of Americans still out of work. During the quarter, the bank said it added an additional $1.9 billion to its consumer loan loss reserve.
Dimon said that the lack of clarity about the direction of the economy was also playing a big part in keeping the bank from boosting its dividend back to pre-crisis levels. JPMorgan slashed its dividend last year by 87% and currently pays one of just 5 cents a quarter.
JPMorgan Chase is the first of several big banks and Wall Street firms to report its fourth-quarter results. Citigroup (C, Fortune 500), Bank of America (BAC, Fortune 500), Wells Fargo (WFC, Fortune 500), Goldman Sachs (GS, Fortune 500) and Morgan Stanley (MS, Fortune 500) are all slated to release their fourth-quarter and full year numbers next week.
JPMorgan Chase is widely believed to be among the strongest banks in this group though, and its healthy profits could lead to more criticism of the financial services industry.
On Thursday, the industry faced one of its harshest attacks yet after the White House proposed a new tax Thursday on big banks that it said helped to contribute to the financial crisis.
Dimon said Friday that he was not opposed to the concept given the financial services industry's role in the current economic mess. But he quickly rejected the notion that banks such as his should be held responsible for the problems in other industries such as the automotive business.
"I don't understand why we should have to pay for that," he said.
There is also the ongoing backlash among politicians and taxpayers about the size of bonuses doled out by financial firms that benefited from government bailouts.
JPMorgan, which accepted $25 billion in taxpayer aid last fall, revealed Friday that more than a third of its compensation expenses went towards its Wall Street employees.
The company said it spent $9.33 billion to compensate workers in its investment banking division, an increase of $1.6 billion from a year ago. That figure includes salaries as well as money set aside for bonuses.
Divided among the nearly 25,000 individuals in this business, the average annual compensation per employee was nearly $380,000.