Greece is the word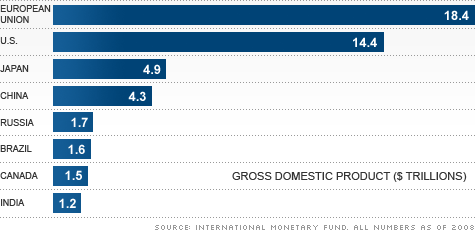 NEW YORK (CNNMoney.com) -- Could Europe kill the chances of a global economic recovery?

There are growing concerns about the health of several European nations, most particularly Greece. Standard & Poor's, Moody's Investors Service and Fitch Ratings all downgraded their credit ratings for Greece last month.
And in a report last week about Europe by Moody's, analysts at that agency wrote that the economic outlooks in Greece and Portugal are so troubling that they run the risk of a "slow death."
While it may be tempting to dismiss problems in Greece as insignificant considering that this is no longer 450 B.C., that would be a mistake.
Greece matters since it is one of the 16 European Union nations that make up the eurozone and use the euro as their currency. So its problems have the potential to cause a ripple effect throughout Europe.
In fact, the European Union, which includes 27 nations overall, collectively ranks ahead of the United States as the world's largest economy, according to the most recent figures from the International Monetary Fund.
To be sure, it does not appear as if Greece is on the verge of defaulting anytime soon. But last month's downgrades don't help. That will make it more expensive for Greece to pay interest on its debt.
The ratings agencies are also starting to take a more critical look at other debt-burdened European countries. S&P cut its rating on Spain last month, a day after Fitch lowered its rating on Greece.
In addition to Greece, Spain and Portugal, Italy's economy is facing some massive problems. For that reason, market experts have taken to referring to Portugal, Italy, Greece and Spain with the derisive nickname of the PIGS. Some even throw an extra I in there for Ireland.
"Greece doesn't pose a huge risk to the immediate economic outlook just yet," said Kathy Lien, director of currency research at GFT, a foreign exchange and futures brokerage firm in New York. "But Germany does have a large budget deficit and it has to take care of that."
In its report, Moody's said several European nations have been fortunate that interest rates are so low. Moody's analysts argued that this "has prevented complete economic and financial meltdown."
But interest rates won't remain this low forever. And analysts noted if investors start worrying more about inflation this year -- which is possible despite little evidence of it being a major concern right now -- then rates could rise.
That could make the debt loads for the most troubled countries in Europe even more costly, which may mean "more highly indebted countries could find their ratings tested," according to Moody's.
So this may be just the beginning of problems for countries in Europe.
"After you've had a gigantic debt bust, the next phase is sovereign budget deficit struggles," said Steve Van Order, chief fixed-income strategist with Calvert Funds in Bethesda, Md. "For the next few years, this is going to be a major issue. You can't dismiss it."
Of course, few are expecting Europe to actually lead the world out of recession. And it's encouraging that the worst finally appears to be over in the United States, and China appears to be returning to strong levels of growth.
Still, it's not going to help matters if Europe remains mired in a funk. Currency traders are clearly worried about Europe's woes. The U.S. dollar, which struggled against the euro for most of 2009, started to rally against the euro in December just as ratings agencies were announcing their downgrades.
And while a stronger dollar has its benefits, it's also somewhat perversely a sign of fear. For the past few years, the dollar has been considered a safe haven. In other words, it tends to do better when investors have a dim view of the global economy. That may be the case now.
"There is more room for the euro to suffer. You may have to rethink the strength of the global recovery," said Brian Dolan, chief currency strategist with FOREX.com, a trading firm based in Bedminster, N.J. "The risk is that greater weakness and a more drawn out recession could unfold."