Fake version of Alli diet drug leads to warning
NEW YORK (CNNMoney.com) -- A counterfeit version of the over-the-counter weight-loss product Alli being marketed online could be harmful to dieters, the U.S. Food and Drug Administration warned Monday.
The FDA said the counterfeit Alli was sold in 60 mg capsules as part of a 120 count refill kit.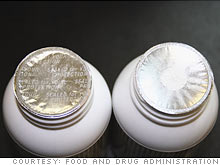 GlaxoSmithKline, which makes the approved version of Alli, said tests showed the falsely packaged and labeled products contained a controlled substance called sibutramine.
Sibutramine should not be used by certain patients or without physician oversight and can interact in a harmful way with other medications, the FDA said.
In a statement on its Web site, GSK (GSK) said the counterfeit product has been sold on online auction Web sites, such as eBay. But there is currently no evidence that the fake product has been sold through other channels, such as retail stores, GSK said.
Consumers began reporting suspected counterfeit Alli to the manufacturer in December, the FDA said.
The FDA and GSK said there are a number of ways for consumers to identify the false version of Alli, including the following:
-- The counterfeit version is missing the "LOT code" on the top of the outer cardboard packaging.
-- The counterfeit version has an expiration date that contains the month, day and year. The expiration date on the genuine version has only the month and year.
-- The seal on the bottle should read "SEALED FOR YOUR PROTECTION" in white ink on the bottle. This statement is not present on the fake product.
-- The capsule size is slightly larger in the counterfeit and the content inside of the capsule is different -- the counterfeit content is powdery and the genuine product is more of a pellet shape.
Consumers who suspect they have purchased counterfeit Alli are urged to contact the FDA at http://www.accessdata.fda.gov/scripts/email/oc/oci/contact.cfm.