Debt ceiling fight: It's back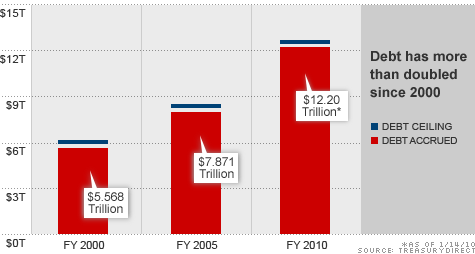 NEW YORK (CNNMoney.com) -- The country's legal debt limit will need to be raised again -- and soon. The Senate on Wednesday will debate just how high.
The proposed increase is likely to be north of $1 trillion and could be as high as $1.8 trillion. The goal is to boost the limit enough so that the issue need not be revisited before next year, and in any case not before the November mid-term elections.
The debate follows on the heels of an 11th hour short-term increase passed by the Senate on Christmas Eve. That vote raised the ceiling by $290 billion to $12.394 trillion -- enough to cover Treasury's borrowing needs through mid-February.
Democratic leaders could only get support for a short-term boost because a bipartisan group of Senate fiscal hawks have said they would not vote through a long-term increase until lawmakers adopt a "credible process" to curb the growth in U.S. debt.
Just what that "credible process" should be is going to be a major focus of the debate that begins Wednesday.
Moving beyond the debt limit
Amendments are expected to be introduced that attempt to force Congress to be more fiscally responsible.
Key among them is a proposal to create a bipartisan fiscal commission from Senate Budget Chairman Kent Conrad, D-N.D., and the budget committee's top ranking Republican, Sen. Judd Gregg, R-N.H.
The commission would make recommendations to Congress for how to rein in runaway spending growth, which threatens to overwhelm the federal budget. Two main causes are growing unfunded entitlement obligations and interest that will be owed on the nation's debt.
The commission's recommendations would be guaranteed a speedy floor vote. Lawmakers would only be allowed to vote up or down on the recommendations without amendments or filibusters. And they'd have to do so by the end of 2010.
The commission's recommendations wouldn't be popular with either party. Anything the commission puts up would mean cutting spending and raising taxes -- not exactly what gets politicians elected.
The idea is that recommendations from a bipartisan group of sitting lawmakers would give all of Congress political cover to vote for tough medicine to cure U.S. budget woes.
The proposed commission has its critics both in and out of Congress, and it's not clear that it has the 60 votes needed to pass.
Some top Democrats such as Max Baucus, D-Mont., have criticized the idea as tantamount to outsourcing Congress' core fiscal responsibilities.
Some interest groups such as the Committee to Preserve Social Security and Medicare have said they think the commission would strip down benefits from the popular entitlement programs.
Conrad has countered that the commission would help strengthen both programs, since they could be changed far more drastically if lawmakers don't begin to rein in the country's long-term spending trajectory soon.
Stuart Butler, the vice president for domestic and economic policy at the conservative Heritage Foundation, believes the commission as proposed has design flaws. Among them, he noted in a statement, it wouldn't allow for much public input.
If the Conrad-Gregg commission fails to garner sufficient support, attention will turn to the White House, where President Obama has been considering the possibility of issuing an executive order to create a fiscal commission.
But the recommendations of that commission would carry less weight than one created by law, and the Congress would not be forced to vote on its recommendations.
Pay as they go
Another amendment aimed at improving Congress' fiscal responsibility record is one that would give the principle of "pay-as-you-go" the force of law.
Pay-go essentially means that whenever lawmakers want to pass a tax cut or spending hike they must make up for the foregone money by finding an equal amount of money by either cutting spending cut or increasing taxes elsewhere in the budget. That way, the new measure doesn't increase the deficit.
The House already passed a pay-go proposal but it isn't likely to garner sufficient support from budget hawks in the Senate, since it exempts from pay-go discipline at least $3 trillion worth of policies that are likely to be extended, including the Bush tax cuts for most Americans and a permanent fix to the Alternative Minimum Tax.
Senate Majority Leader Harry Reid, D-Nev., is expected to introduce the Senate version of a pay-go proposal, but it's not clear what parameters he would set.
Pay-go would prevent lawmakers' proposals from adding to the country's deficits. But it doesn't address the growth in deficits that comes from future interest payments owed on the debt already accrued, drops in tax revenue during economic slowdowns or unfunded liabilities in Medicare and Social Security.
Republicans on Wednesday are also expected to offer amendments that would cap discretionary spending, end the Troubled Asset Relief program and rescind stimulus funding, according to Congress Daily.
Those debates will offer a taste of what's to come in coming weeks as Congress is set to consider numerous ways to spur jobs and the economy.