Welcome back, Glass-Steagall
NEW YORK (CNNMoney.com) -- In honor of the latest banking overhaul proposed by President Obama (with inflation fighter Paul Volcker to boot) I give you the following ditty.
Sing it along to the tune of "Welcome Back, Kotter" -- a TV show that was popular just before Volcker became the chairman of the Fed! I call it "Welcome back, Glass-Steagall." I guess that makes Citigroup (C, Fortune 500), JPMorgan Chase (JPM, Fortune 500) and Goldman Sachs (GS, Fortune 500) some of the Sweathogs. And poor Bank of America (BAC, Fortune 500) has to be Horshack.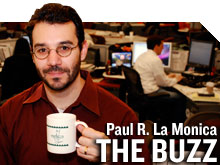 Welcome back. Bank mergers were your ticket out. Welcome back. To that same old Wall Street that you laughed about.
Well the names have all changed since you hung around. But the greed remained and the banks came crashing down.
Who'd have thought they'd lead ya. (Who'd have thought they'd lead ya!) Here where we need ya. (Here where we need ya!) Yeah, we bash the banks a lot 'cause we've got them on the spot, welcome back. Welcome back, welcome back, welcome back.
Ok. For those not versed in banking history, Glass-Steagall was a law enacted in 1933 in the wake of the Great Depression. The law prohibited commercial banks from engaging in the investment banking and insurance businesses. It also created the FDIC.
The rationale behind Glass-Steagall was that reckless practices by the nation's financial giants helped bring about an economic catastrophe. Sound familiar?
"One of the irrefutably great successes of the New Deal was the Glass-Steagall Act," said Anthony Sabino, a professor of law and business at St. John's University. "There was a reason why the law was passed and endured for almost seven decades. There was massive speculation by banks with other people's money."
But this law was essentially undone in 1999 by the Gramm--Leach--Bliley Act, after which many tie-ups between banks, Wall Street brokerages and insurers quickly ensued. In fact, the announcement of the 1998 merger of Citicorp and Travelers Group to create what is now known as Citigroup is what forced Congress to take action.
Now to be fair to the Obama administration, the latest plan to curb bankers' bad behavior does not really look like a complete return to the days of Glass-Steagall.
If that were the case, Bank of America would have to part ways with Merrill Lynch while J.P. Morgan and Chase would likely need a corporate divorce as well.
Rather, it appears that the White House wants to restrict banks from using deposits in so-called proprietary trading activities at their investment units, i.e. trading for the bank's own accounts as opposed to client accounts. (Congress has to approve any such changes though.)
But by suggesting new guidelines to try and limit the "size and scope" of big banks, the White House is clearly doing its best to force firms like Citi, JPMorgan, BofA, Wells Fargo (WFC, Fortune 500), Goldman Sachs and Morgan Stanley (MS, Fortune 500) to slim down and take on less risk. Volcker has said that the proposal is "in the spirit" of Glass-Steagall.
At first glance, more limits might not be a terrible idea.
"Some would argue that the consequence of the removal of Glass-Steagall was that banks and financial institutions overall took on more risks," said Tim Ferguson, founder of Next Street Financial, a merchant bank based outside of Boston that provides consulting and financing to small businesses.
Several lawmakers, most notably former presidential candidate John McCain. R-Ariz., have actively called for a return to Glass-Steagall. McCain, incidentally, voted for the Gramm-Leach-Bliley bill in 1999.
Regulation overload?
But is the Obama-Volcker plan (New Glass-Steagall? Glass-Steagall Lite? Glass Steagall 2: Electric Boogaloo?) really the answer to the banking sector's problems or just another punishment for the sins that led up to the credit crisis?
"The administration is taking a populist tone here since there appears to be so much public anger," said Hal Reichwald, co-chair of the banking and specialty finance practice group at law firm Manatt, Phelps & Phillips, LLP. "The easy thing to do is to pick on banks, particularly the ones that have made huge sums of money."
The White House has already proposed much stricter rules on employee compensation, even greater powers for the Federal Reserve and, most recently, a tax on banks taking on too much leverage. At what point do all the new rules become overly burdensome?
"We may need smarter regulation, but I don't think you want to legislate change on growth and size. That could constrain the economy," said said Chip MacDonald, a financial services partner with the law firm Jones Day "I'm not sure restraining growth is consistent with telling banks to increase lending and get the economy moving again."
What's more, this last recession isn't the first time banks have made colossal mistakes that hurt the economy.
Remember the savings and loans crisis? That took place in the late 1980s and 1990s -- when Glass-Steagall was still on the books.
"More banks failed in the late '80s and early '90s than this recession," MacDonald said. "In a frothy economy, risk management is important, but there is competition and the temptation of lot of money to be made. That's typical of cycles and human nature."
Wall Street needs a babysitter
All that said, the government has a responsibility to protect consumers from bad banking practices. And Washington has earned a right to have a greater say in how banks are run by virtue of the massive taxpayer bailout of the banking system.
"More risk was taken on by banks in a variety of ways that should not have been permitted," Reichwald said. "Any policy change is worth considering if it's done in a reasonable fashion. We're living though an economic debacle and trying to restructure the entire financial system."
Yes, I'm a bit fearful that Washington is going too far; there needs to be limits to how much control it has over the banks.
But the banks have proven that, much like a spoiled child who's never been disciplined by their parents, they will try and get away with murder. Why should they be trusted now?
"The cowboys on Wall Street are always one step ahead of regulators. When banks make idiotically leveraged investments, they need to be stopped," Sabino said.