Who needs consumer spending?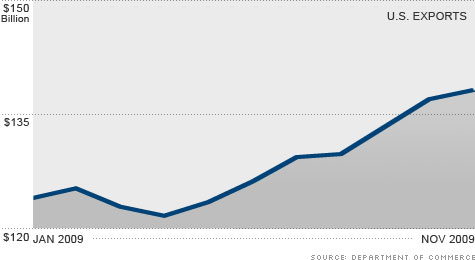 NEW YORK (CNNMoney.com) -- American consumers are unlikely to ride to the economy's rescue the way they did following the 2001 recession.
The unemployment rate is still high. People are saving more and spending less. Credit remains tight. And nearly $7 trillion in household wealth evaporated during the recession.
But even though consumer spending accounts for more than two thirds of the nation's economic activity, there is a growing sense that the economy can enjoy a solid recovery without significant help from consumers.
Economists surveyed by the Blue Chip Economic Indicators expect modest growth of about 2% a year in disposable incomes and consumer spending this year and next. But they still expect overall economic growth of about 3% each of those years -- and those estimates have been rising.
"The consumers don't necessarily have to be in the lead," said Brian Bethune, chief U.S. financial economist for IHS Global Insight. "I would say that a balanced recovery is more desirable."
Bethune argued that business investment and exports will combine to give the economy the boost it needs, even as headwinds keep consumer spending in check.
"It might not be the type of growth that favors heavy job creation," Bethune concedes. But he said corporate investment on equipment and new technology is better for the economy in the long term by creating greater productivity and more sustained economic activity in the future.
"An investment-led recovery is clearly the most desirable, and if that's fed by exports, all the better," he said.
Exports' surprising strength. The idea that export growth could be a major factor in the recovery is probably the most surprising. Most people think of China, not the United States, when they think of export-driven economies.
But the U.S. is a considerable exporter, selling $1.4 trillion worth of goods and services outside the U.S. in the first 11 months of the 2009. In 2008, the U.S. was the No. 3 exporter worldwide, behind only Germany and China, a ranking the U.S. is likely to keep once 2009 figures become available.
U.S. exports are also rebounding very fast, at nearly an 18% annual growth rate in the third quarter.
"Exports are now 25% to 30% of U.S. manufacturing shipments, a record high. They are growing twice as fast as the global average," said Joseph Carson, chief economist at AllianceBernstein. "So exports can be a big driver."
Carson said that the sustained growth of the middle class in major emerging markets, coupled by a cheap dollar can keep U.S. exports growing at a healthy rate for the foreseeable future. And he said that growth in exports will eventually lead to more jobs in the U.S. and a boost in consumer spending.
The myth of the consumer-led recovery. Much of the government's stimulus efforts focused on getting more money into the hands of consumers through tax cuts, help for the unemployed and spending projects.
While stimulus helped to lift consumer spending by 2.8% in the third quarter, much of that spike came from the short-lived Cash for Clunkers program. Consumer spending on other goods and services rose at a lower rate than the 2.2% growth rate for the overall economy.
But some economists say that the idea that consumers need to be the major force behind an economic recovery is something of an illusion. History is full of examples of the other factors, such as a rebound in housing or a restocking of depleted inventories by businesses, leading the way back to growth.
"Typically consumer spending does not lead us out of a recession," said Karen Dynan, vice president for economic studies at the Brookings Institute.
Dynan said the recovery following the 2001 recession, when consumers used easy credit and rising home prices to tap into their homes' equity and hit the stores, was an exception, not the rule. And it's an experience that won't, and shouldn't be repeated this time.
But a restocking in inventories is widely expected to lift economic activity. Some believe a rebound in the long suffering housing sector will do the same, although there is more debate on that point.
Businesses' decision to slash inventories in the first quarter of last year was one of the biggest reasons why the nation's gross domestic product plunged at a 6.4% rate in that period, accounting for more than a third of that decline.
Economists surveyed by Briefing.com are forecasting a 4.2% increase in GDP in the fourth quarter when it is reported on January 29, which would be the biggest rise in nearly four years and almost twice the growth rate of the third quarter.
A turnaround in inventories is expected to be a major factor in that jump, as well as any further growth in the economy during the first half of this year.
Strong may not be strong enough. Of course, there are those who think a robust increase in consumer spending is needed in order for the economy to rebound sharply.
Robert Brusca of FAO Economics said without strong growth in consumer spending, this recovery will be like "like a parade without a drum section." He said increased business spending can lead to a rebound that makes GDP look better. It just won't feel that way for many consumers.
"Beyond the arithmetic, you have to get final [consumer] demand along for the ride or it's not going to very good recovery," he said.
Others say there can be solid growth -- perhaps a 5% rate in the fourth quarter and close to 4% in 2010, without a healthy jump in consumer spending. But the economy needs better growth than that to make up for the damage caused by the Great Recession.
"I think we can have a moderately solid recovery. The problem is we need a gangbusters recovery, given the depths we're coming from," said economist John Ryding of RDQ Economics.